On Saturday, Eva told me about Nicci Beach having a "sushi Sunday" or something along those lines, and that we should all go as a group. At Mixali's party, Tasso and I decided that we'd go and the plan was made to go (for yesterday) :)
It was free entrance for ladies before 16:00. Eva fetched us with Sim and Didi (made a new friend, yay!) and off we went. We got there just before 16:00 so WOO free entrance :D The parking was quite full :O and the line was a bit long... After getting in, we went to get some drinks and we met up with Storm on the dancefloor. IT WAS SO PACKED you could hardly move.
I laughed.
Eva, Storm, Sim, me and Didi
I was feeling really hungry and I wanted some of this sushi... Though I didn't see any. We also couldn't get a waitress to assist us, two said they'd come back to us with a menu and we waited at least an hour and eventually we gave up and went to McDoanalds. After eating there (I had a superize chips), we went to the Superspar so that whoever wanted stuff could get (gum, cigarettes and so on).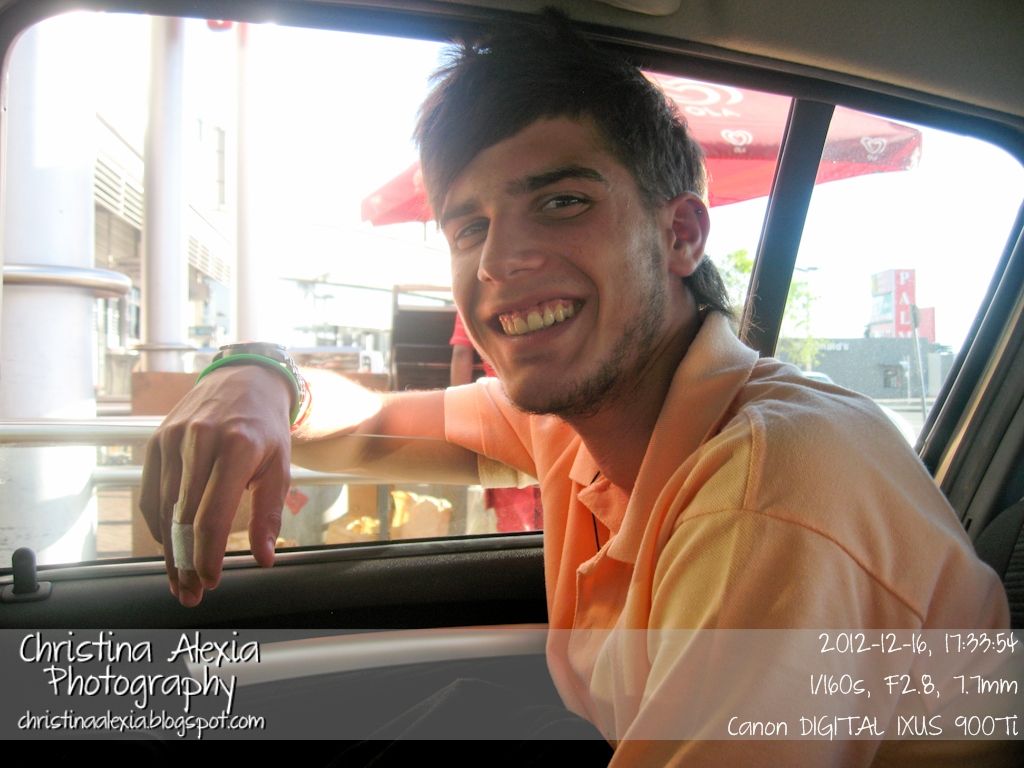 MR TASSO
We went back to Nicci Beach and the parking was TOTALLY FULL. We had to park in the H2O parking and there was so much mud :/ There was also a huge queue to get in and the bouncers didn't want to let us in :( but we showed them that we had stamps and they told us that next time we leave we'd have to wait in the line.
It was even fuller than before and to get anywhere you needed to squeeze past so many people. We went to the outside area and met up with Alexi, Menio and some of their friends. Then we saw Andri and her group walking down the stairs :D FASARIA TIME!
Anna, Andri, Micaela, Kozi, me and Monica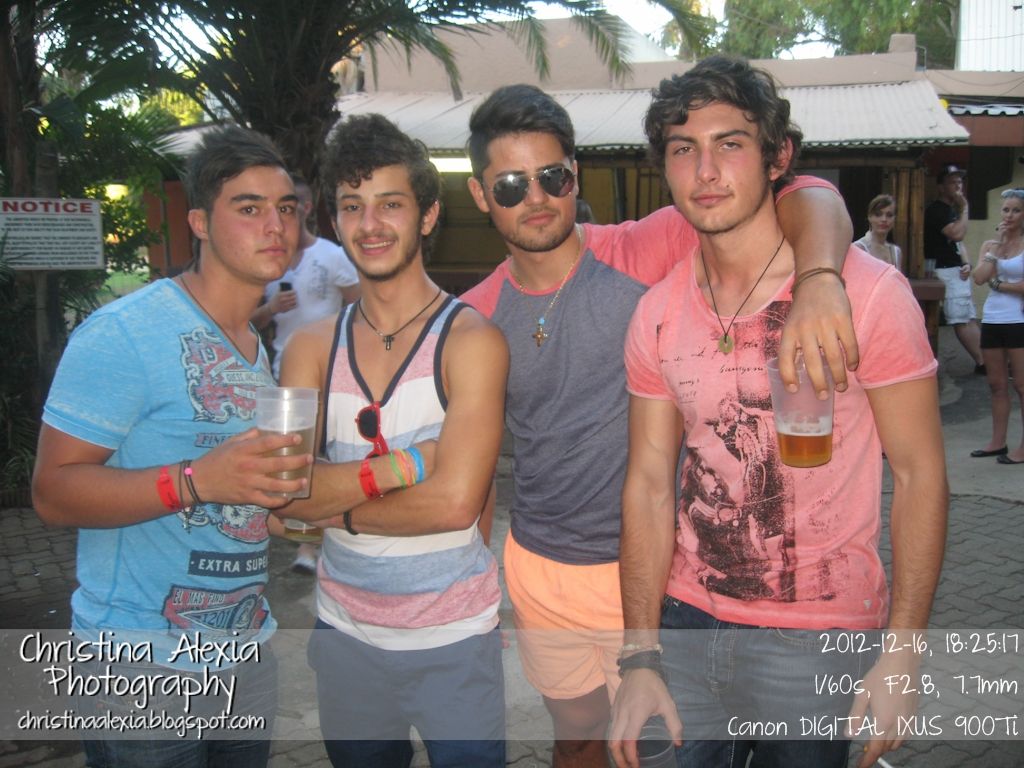 Alexi, Kozi, Menio and Vassili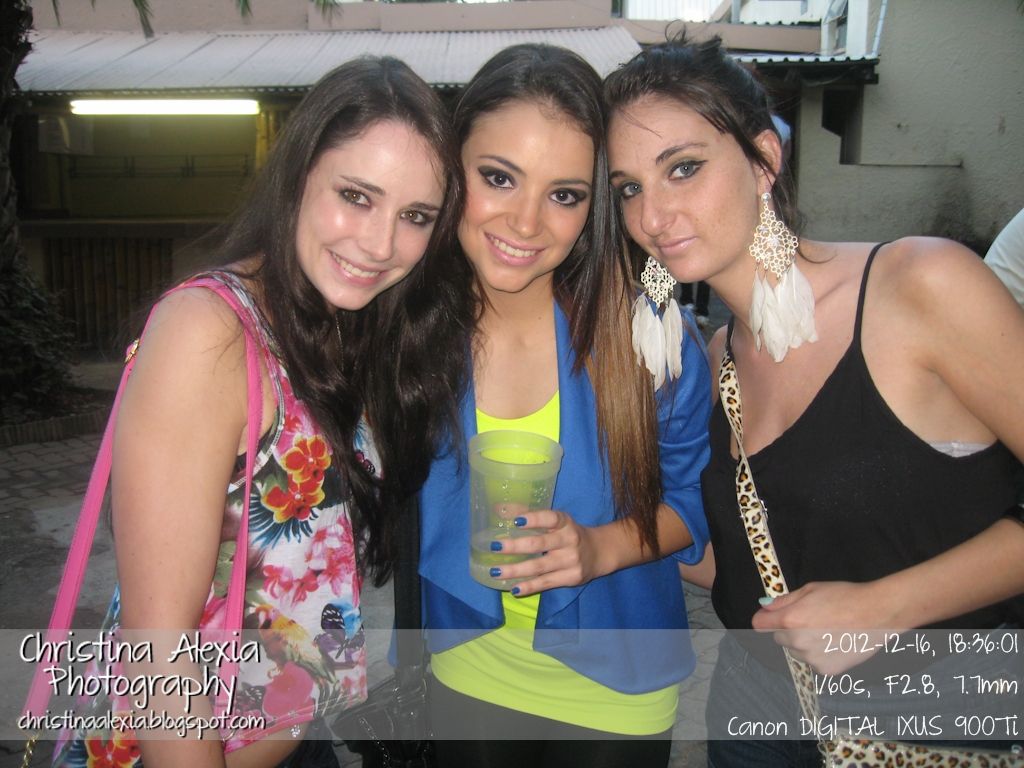 Marilyn, Monica an Andri
Andri and I went to find Maryiln and the three of us went to dance. Marilyn wanted to meet up with someone so we kind of lost her in the crowd while talking to someone else. After we found her we went back to the outside area and chilled there for a while.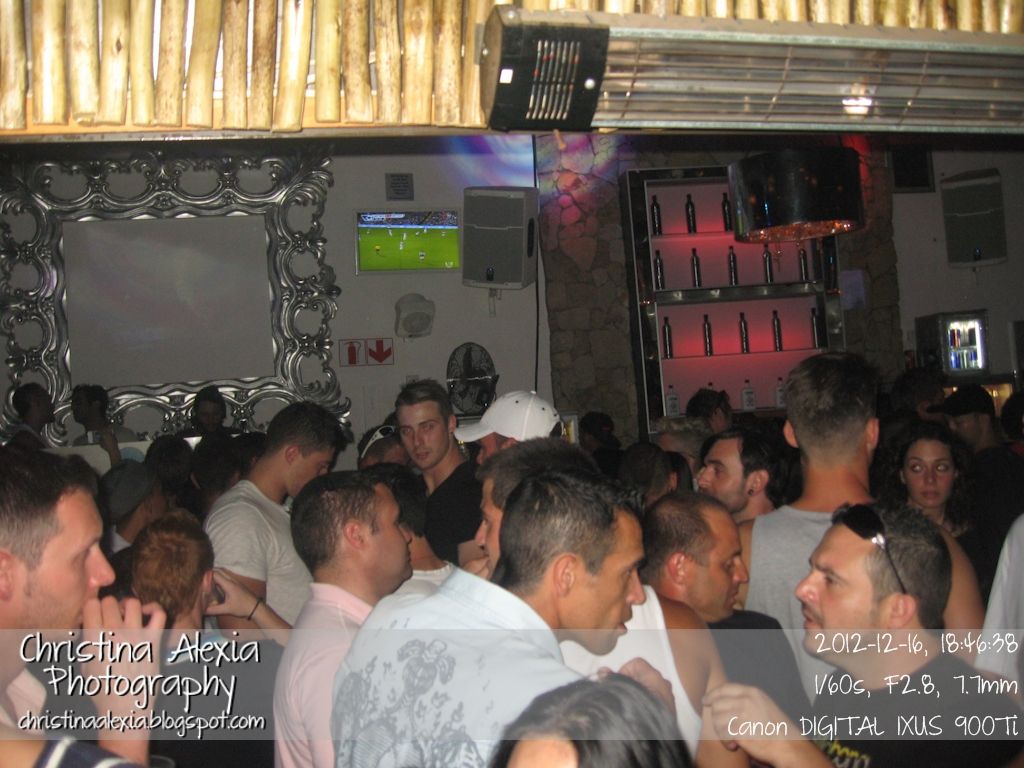 SO FULL.
Gyftes ;)
The downstairs bar was now open and it took so long just to get drinks, so frustrating! Some of us just wanted a bottle of water :( After Andri and her group got drinks I joined Eva and Sim to go upstairs to get drinks (they weren't getting served downstairs for some odd reason).
I think a lot of the time was spent waiting in queues *rolls eyes* :/
We all went downstairs again and stayed there for long because it was way too full upstairs (apparently they stopped letting people in because it was too full?)... A few random people came to talk to us and after that it was time to brave the toilet but thankfully there were no queues :P
After that, Andri, Marilyn and I went to dance. We had fun, took photos with random people and were just RANDOM :)
Random people :)
Some girls we met when we were in the bathroom.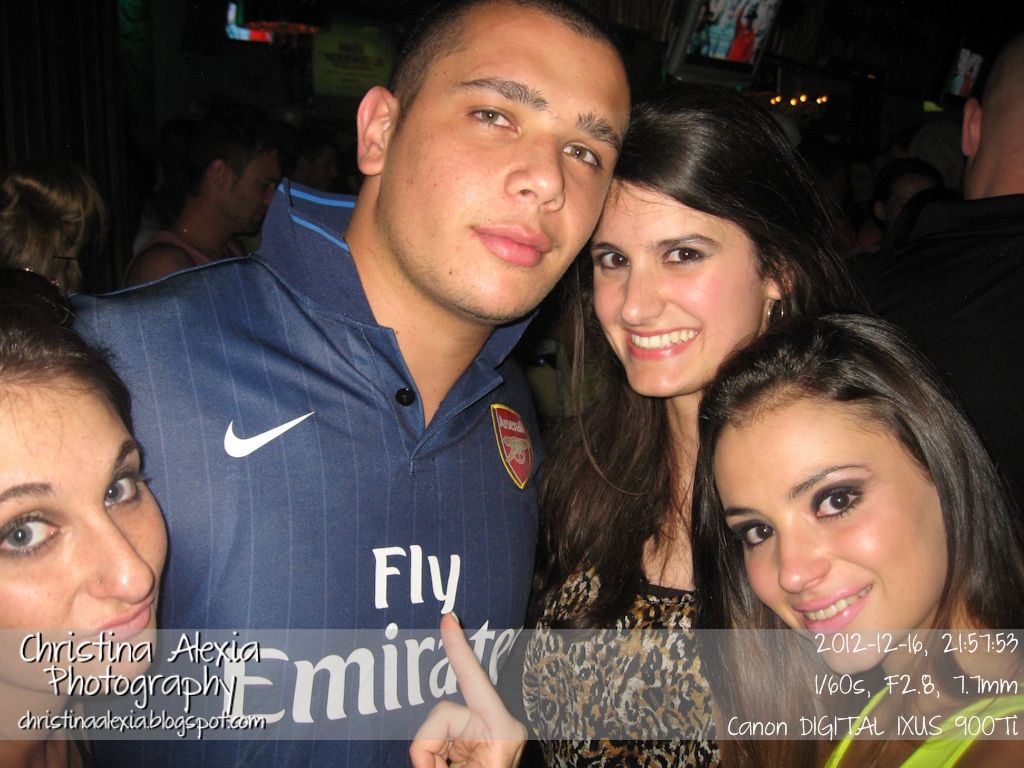 Random Arsenal supporter!
It was then time to go (Eva was our designated driver and her parents asked her to be home by 23:00). I braved the crowds alone and went to find everyone (Andri and Monica went to find Micaela in the opposite direction).
Of course, in typical Greek style, it took us forever to say bye to everyone and OF COURSE I took a billion photos :P
Alexi was going to drive with us because he was taking Kozi home as well as taking Tasso to his house (they are going to the dam today for the week). Storm needed a lift home so in our car it was Eva, Tasso, me, Storm and Didi. In Alexi's car it was just him, Sim and Kozi.
We autographed Alexi's car :P
We decided to go to McDonalds but rather to the one closer to our house. The drive thru was quite busy and the inside was already closed so we waited in line. Eva didn't feel like driving so she asked Didi (who recently got her licence) to drive. Didi struggled to drive Eva's car and stalled, we had the idiots behind us hooting and carrying on and eventually they just went in front of us LOL :P
Eva parked her car and the five of us resorted to walking through the drive thru next to Alexi's car... WALK THRU :D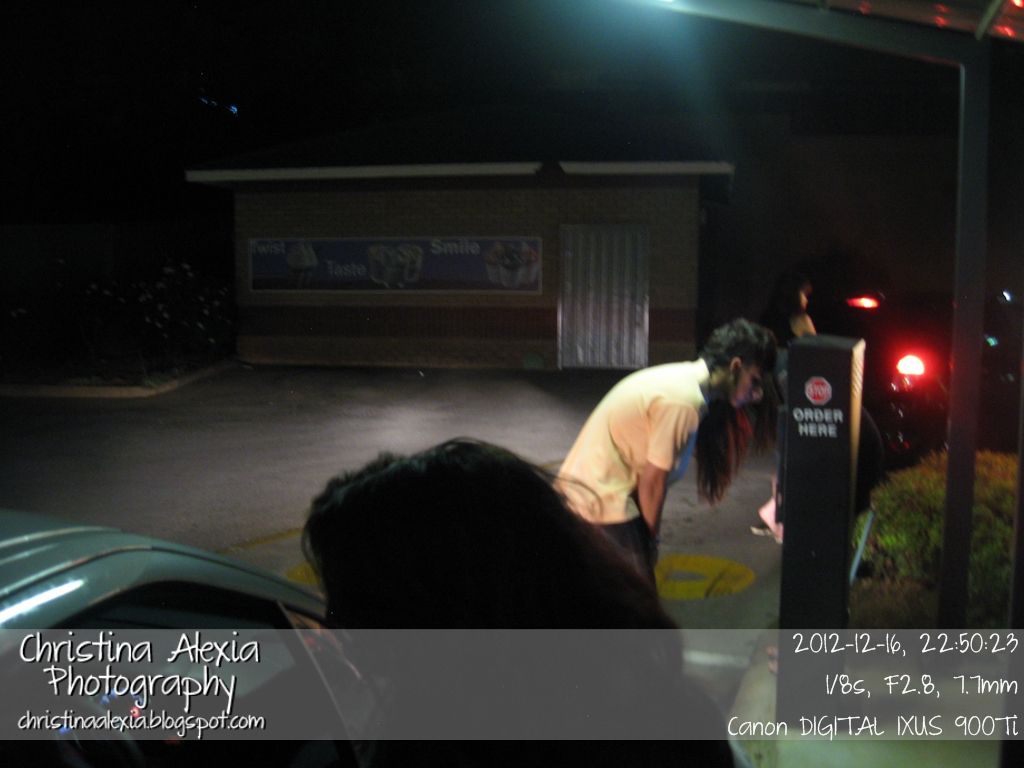 Walk Thru
We got our food then got home and decided to eat on the pavement outside the house because that's what cool people do ;)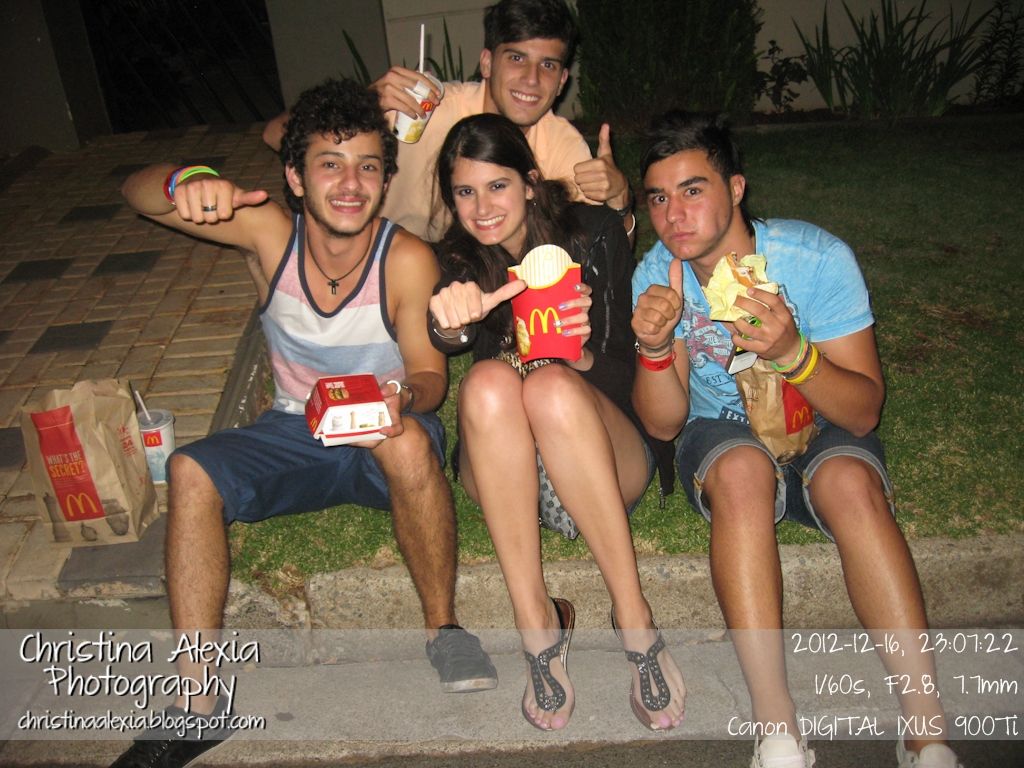 YAY!