WHAT A DAY YESTERDAY WAS!...
Though I shall back track a bit. I did Andrew and my mom's nails last night, then I stayed up until quite late doing my nails (photos further down), so I had no time to make the leggings for the concert. So I woke up. Later than expected. And had to ensure that the leggings were done within a few hours. Which wouldn't be a problem if I wasn't under extreme pressure. Though I got them done. One leg and all LOL.
I used this tutorial found
here
, and I might just leave the leggings as they are, I haven't decided haha!! Photos of the leggings are further down as well.
Anyway! So after I spent about three hours cutting and sewing (by hand!), I dashed off to shower, get ready, eat and do make up and at the same time everyone else was getting ready around me. Tasso was getting his stuff for Vac finalised and there was just general chaos.
Just after 17:30 we left, a whole half hour later than what was planned but hey, what can we do haha oops :P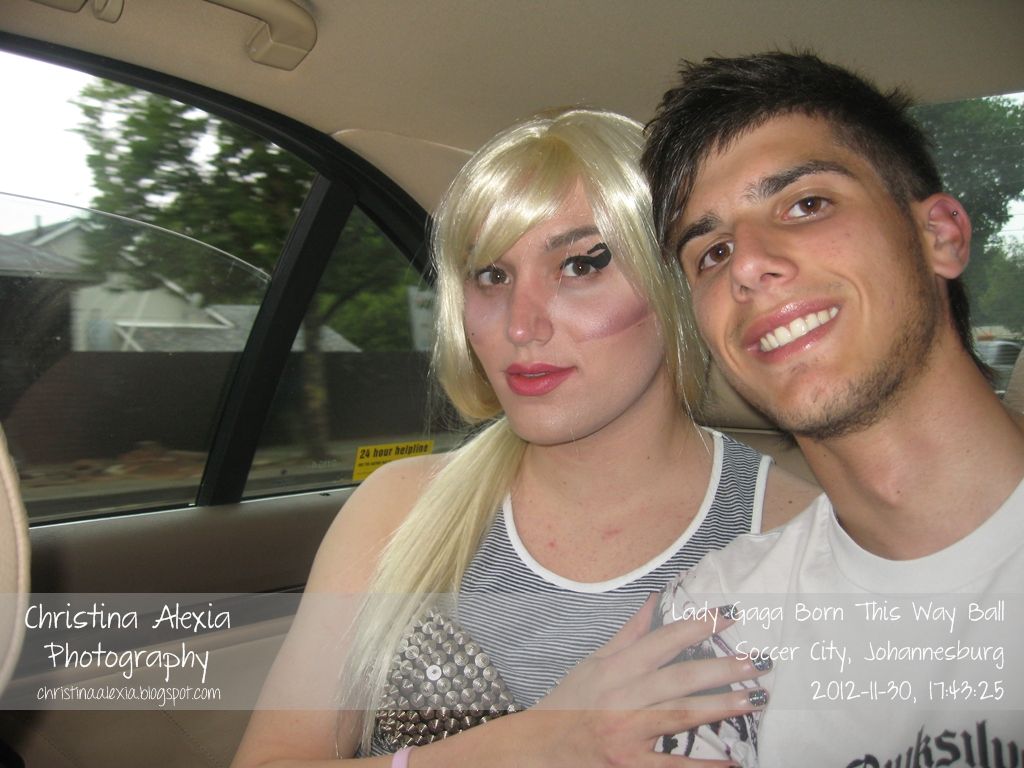 Andrew and Tasso.
Me and Tasso.
We took some photos in the car and I also photographed my nails :)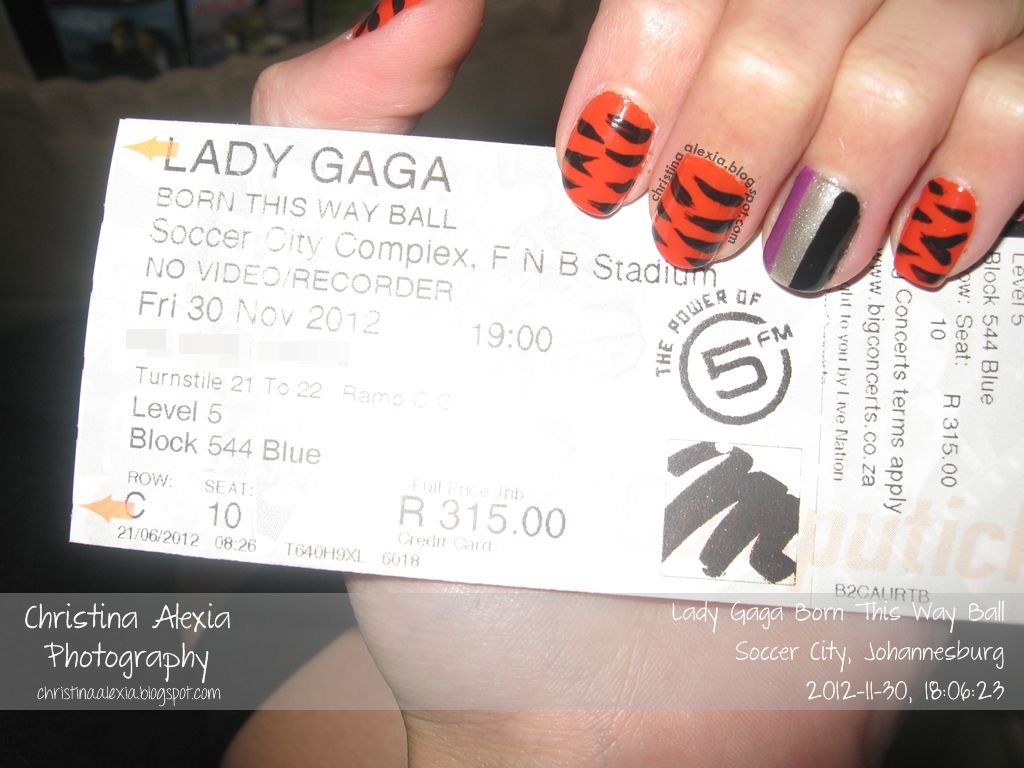 NAILS! Inspired from this.
The traffic was SUPER HEAVY and after what felt like an eternity we got close enough to actually see the stadium...
The parking was almost a disaster! We had paid R120 for parking and when we got to the allocated areas, we were told that they were all full and were told to keep on driving down... The traffic was bad, the opening act had already started, the car was overheating and there were so many scaly fake security guards trying to get people to park in non-designated areas (then they make you pay them).
We ended up parking in a bay that was relatively close to the stadium, and almost right by the gate where we needed to enter the stadium from to get to our seats! Lady Gaga was set to come on at 20:40 so by the time we parked and such, we had just under an hour to get in and get to our seats. Loads of people were also just parking and the line to get in was quite long so it wasn't as if we were the only late ones haha!
We took this chance to take loads of photos as well...
Left to right: Me, my mom, Andrew. LOOK AT MY BANDAGED LEGGINGS :D pretty funky if I must say so myself.
We ran up to strangers with pink wigs and asked for a photo.
More strangers! Yay!
Waiting in the line... We got moaned at for taking a photo!
The security moaned at us for taking photos and said that we were not allowed to take cameras in, but the ticket explicitly says "NO VIDEO/RECORDER" so I didn't understand the problem...
WE EVENTUALLY GOT INTO THE STADIUM and then came the chaos of trying to find how to get to our seats. We first found a bathroom, though, and the queue was LONG.
Waiting for us to finish in the toilet I suppose, I have no idea who took this photo haha.
Left to right: Andrew, my brother, my step dad.




We saw a family friend after that and then...
MERCHANIDSE! My step dad got us t-shirts :D YAY! We each got a different one :)
THEN we started the search for our seats.
AND GOT DISTRACTED ON THE WAY!
After what felt like an hour (it was about 10 minutes) we found our seats. My mom, Andrew, my brother and I sat together and my step dad sat in the single seat we got (we booked Andrew's ticket a few minutes after ours because we weren't sure if he was able to make it to the concert haha!! Tickets sold FAST!).
I took photos of our view...
We had a nice view, the photos don't do it 100% justice :)
We got a bit bored while waiting and I told Andrew I'd be able to photograph through the binoculars! He didn't believe me... So I proved him wrong :P The photos I took of the crowd came out blurred (boo no tripod!) BUT I got a nice shot of the big screen that had Lady Gaga's face on it.
We took more photos as we waited...
There was a LOT of wind where we sat (the weather was generally cold) so by that time I'd put on the sleeves I'd brought but sometime before Lady Gaga came on stage, I'd put on one of the rain coats we'd brought with. It was extremely uncomfortable and borderline unbearable (some people even left during the concert because they couldn't stand the cold anymore).
THEN EVENTUALLY the lights dimmed and everything started...
The show was spectacular and everything about it was just awesome :) from the props to the dancing to the lighting... ALL AWESOME! Except the sound... It went a bit choppy at times during the show which was disappointing but it may have been happening where we sat because no one else I know had this problem. Lady Gaga's stage presence was fantastic and she got the crowd going, kept us all excited and made us all feel special :) You can read more about the concert on the
Wikipedia page
.
After the concert, my entire body was frozen. I could not move my hands and feet without pain but we had to go, and I was eager to get out of that wind tunnel we had going on there :O
Andrew with my step cousin :)
After we left, we went to get Wimpy and drop Tasso off at his friend because their flight was early this morning... We ate then went to bed. I woke up feeling a bit under the weather and I'm slowly progressing into feeling ill so I think this might turn into flu, I don't know, all I know is that I can't clean my atrocious mess in here because I am feel extremely achey and sore :( and I have a small fever. When I feel better, I'll post more photos of my nails.