All I can say is... WOW! It was SO MUCH FUN and we got really close to the front which was something new for me as I'd ever been so close to the front of a stage before haha!!
The day started out slow, my mom had to go to a breakfast event and then drop off my brother's ticket for H2O. In the mean time I was getting ready and I took a bit longer than I'd hoped to but everything worked out well. In the car on the way to H2O, I got photos of my nails :)
We walked around for a bit to see all the dance floors and drink a bit, and then headed into the crowd. I didn't realise what the time was nor did I check that Nicky Romero and Steve Aoki's sets had been moved earlier haha!! But I went with the flow...
We watched Goldfish and they were really good! All the while maneuvering closer and closer to the front...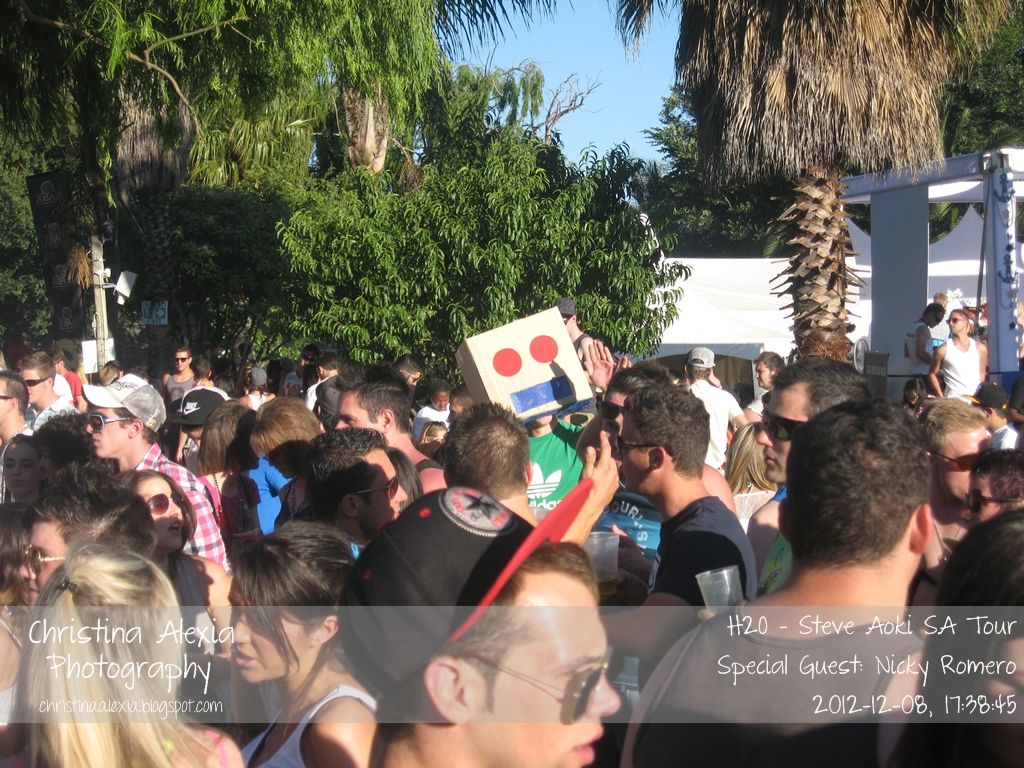 LMFAO Box Man!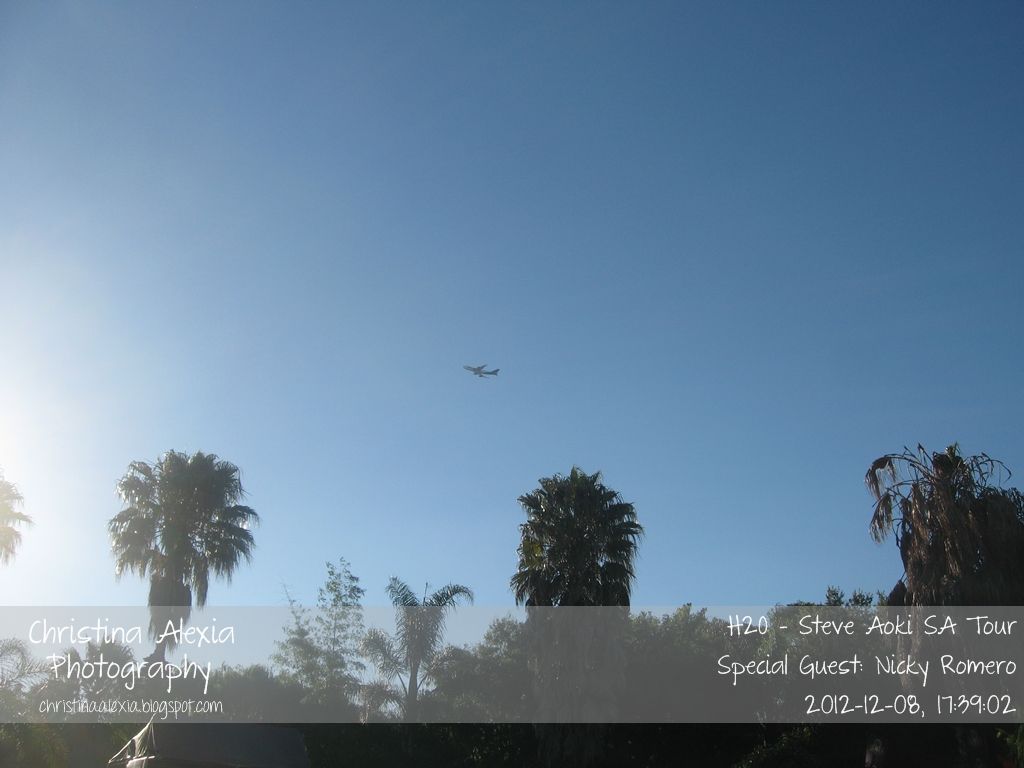 Aeroplane :D
Nicky Romero came out and wow!! His set was AMAZING.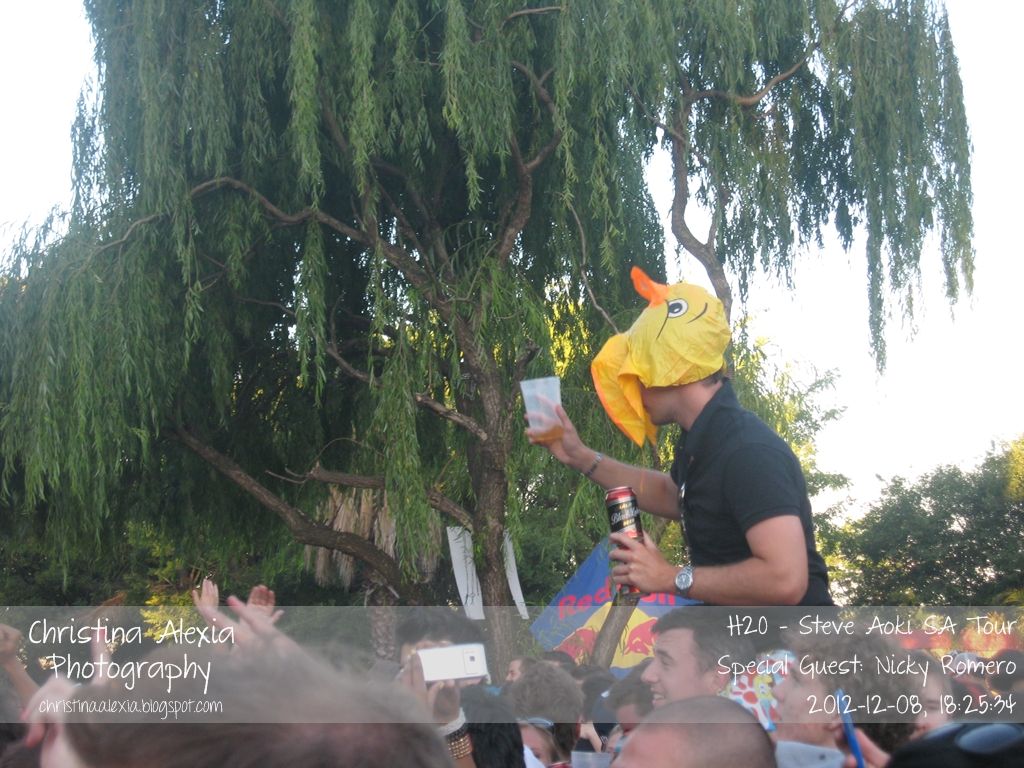 A DUCK.
There were four dancers on the stage.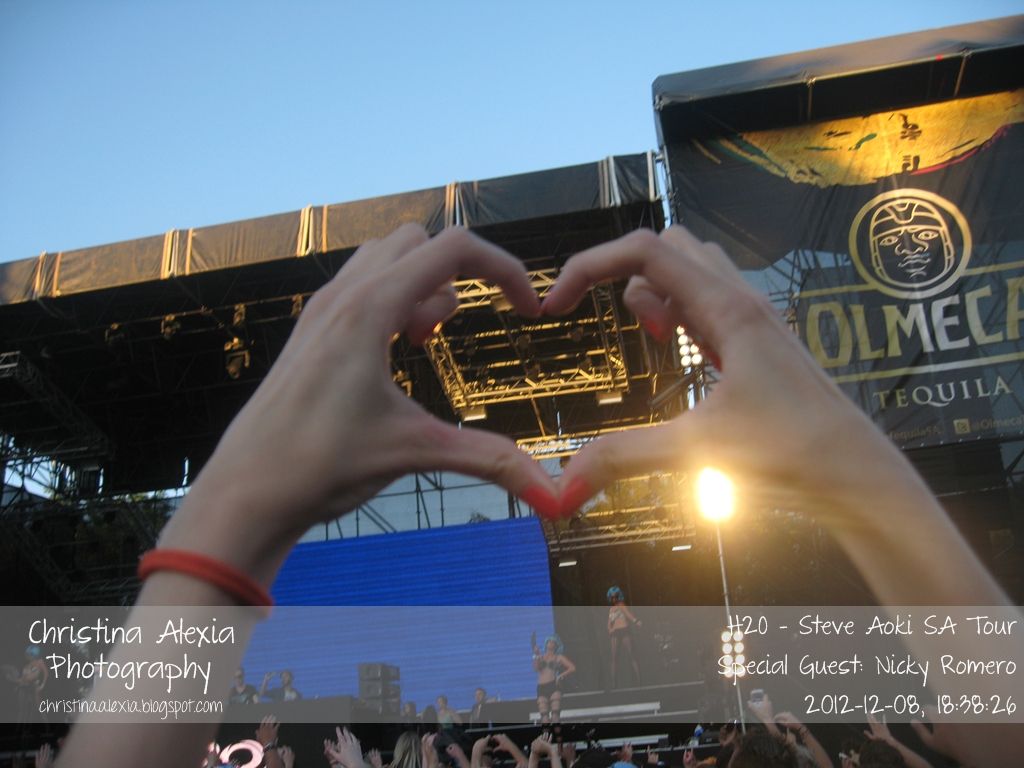 Me making a heart.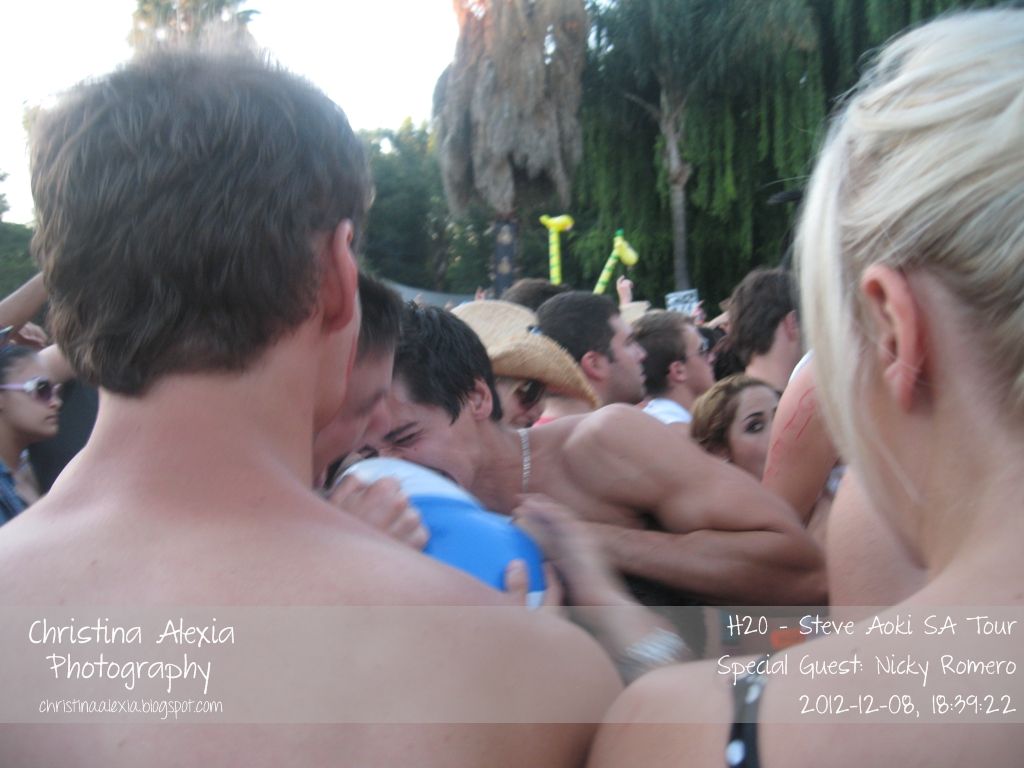 There were a few of these inflatable balls being bounced around and these guys bit the one they caught and popped it. I have no idea why.
LOL AT THE GUY'S FACE WITH THE SHORTS.
People were bursting glowsticks and spraying each other with the fluid.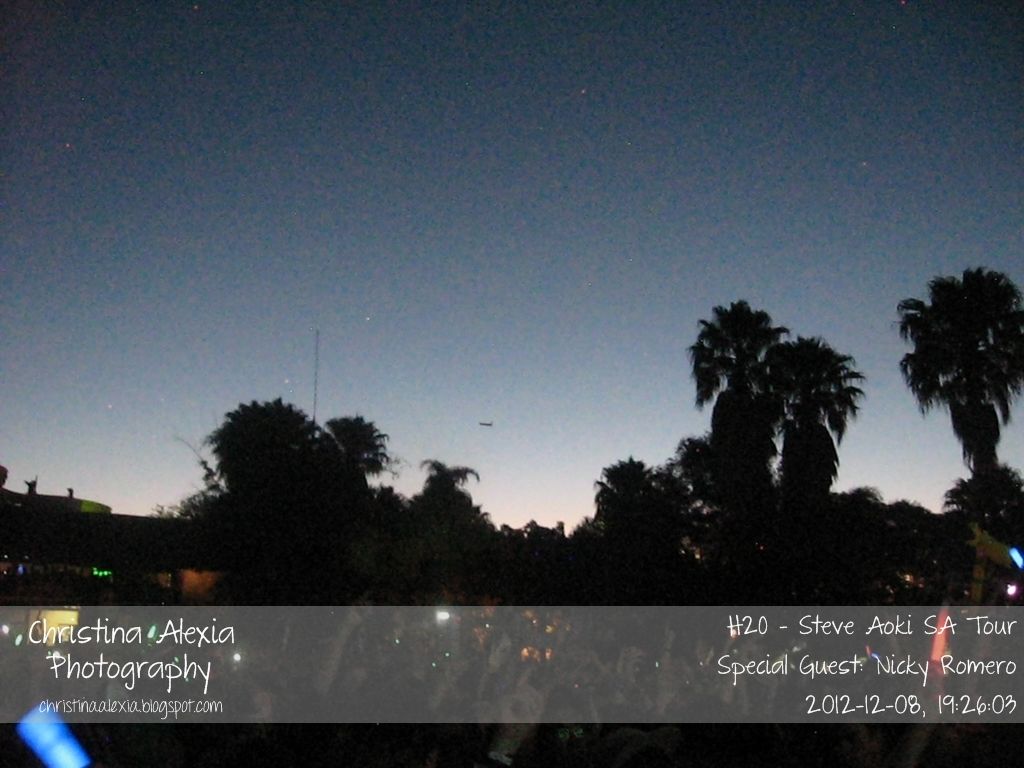 Sunset.
There was this one guy that stood next to us in the crowd and he had the most blank stare ever. He literally just stood there, staring blankly, turning his head side to side every now and again to look/observe and he even yawned. HOW BORED DOES ONE HAVE TO BE? It was a tad creepy.
We also had a very drunk group next to us and the girl was thirsty and asked for some of my water, and I let her have. A bit later on she looked as if she was going to collapse so I gave her the rest of my water which she basically threw into her mouth. She offered to buy us drinks after that and I told her not to worry and to rather just relax, have fun and not pass out :)
We had a few moments of no music in which the organisers asked people to stop throwing things onto the stage, as well as announce that SKRILLEX was coming to South Africa NEXT YEAR MARCH/APRIL and I just about screamed my lungs out hahahaha!! SO EXCITED :D
People started to chant "We want Steve!" and also they began singing songs... Steve Aoki came out a few minutes later and we had gotten a bit closer to the front and... I did not know I'd have my mind blown away and face melted off. His set was BEYOND AWESOME ahhh!!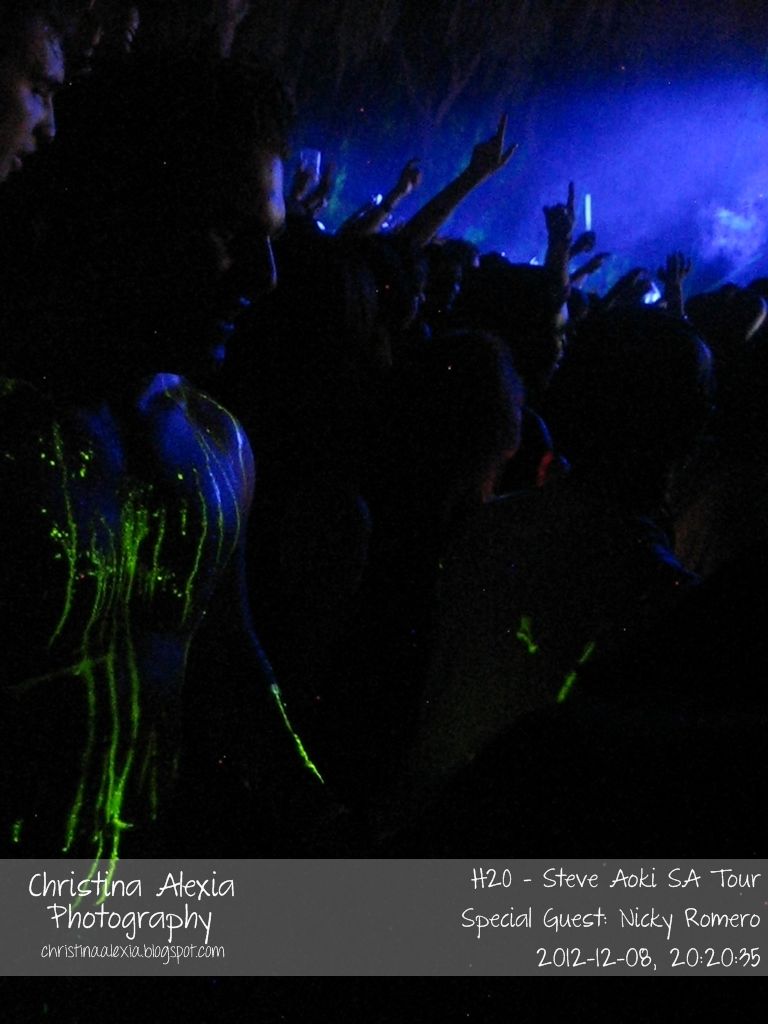 I got some on me from this round of broken glowsticks and it BURNED SO BAD.
He brought out the boat for some boat diving...
BOAT TIME!
... and then some cake to cake our faces...
CAKE TIME!
He also threw champagne onto the crowd as well as random bottles of water and such. It was lots of fun :) his official website has loads of awesome photos.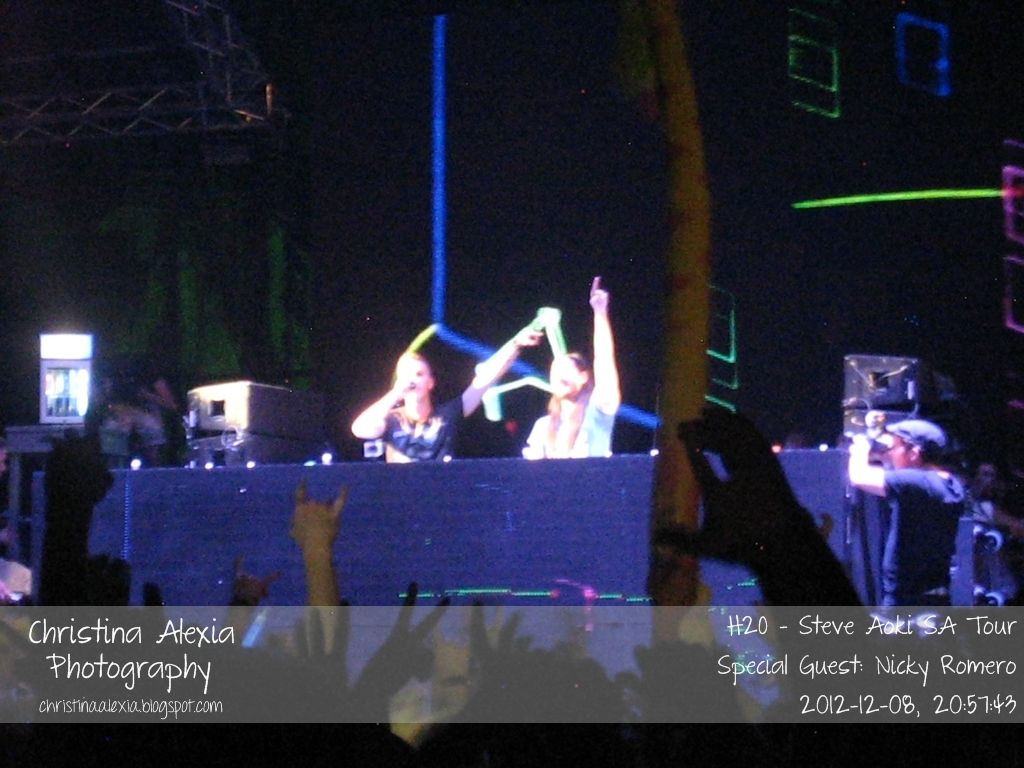 Nicky Romero joined Steve Aoki on stage.
After that, my body ached and I was so hot and tired and absolutely needed water right away. After what felt like an eternity of trying to get a bottle of water, I got one (so many of the bars were sold out) and I drank it almost in one go.
My back hurt so we went to sit down and some friends met up with us...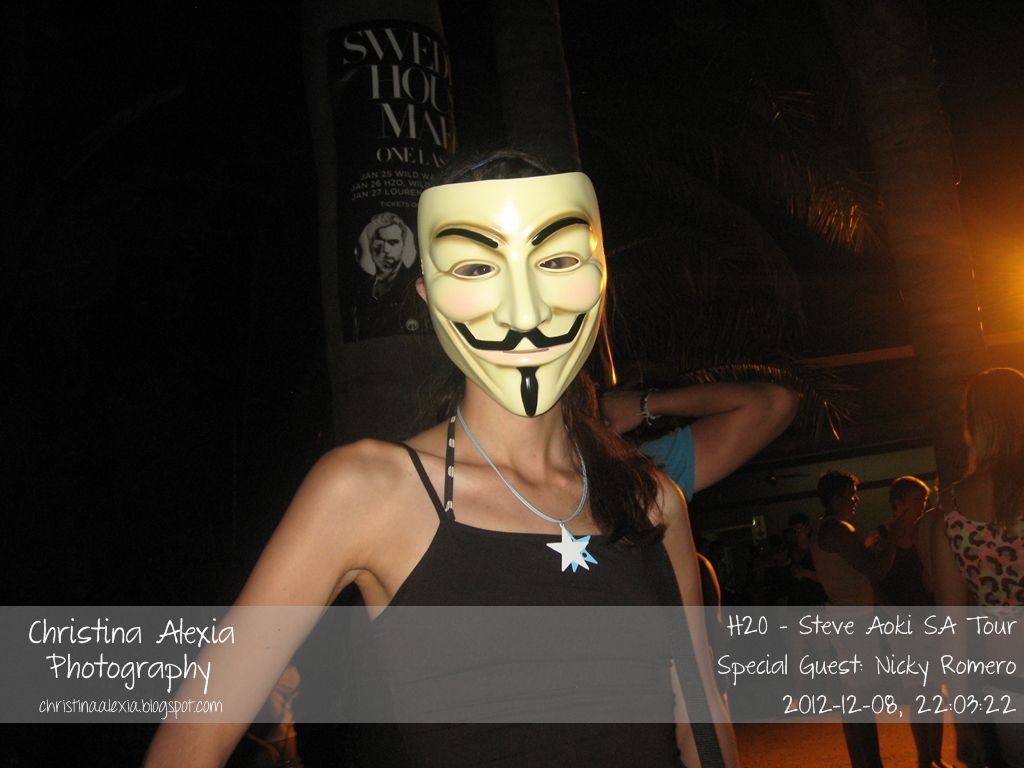 Remember remember the 5th of November.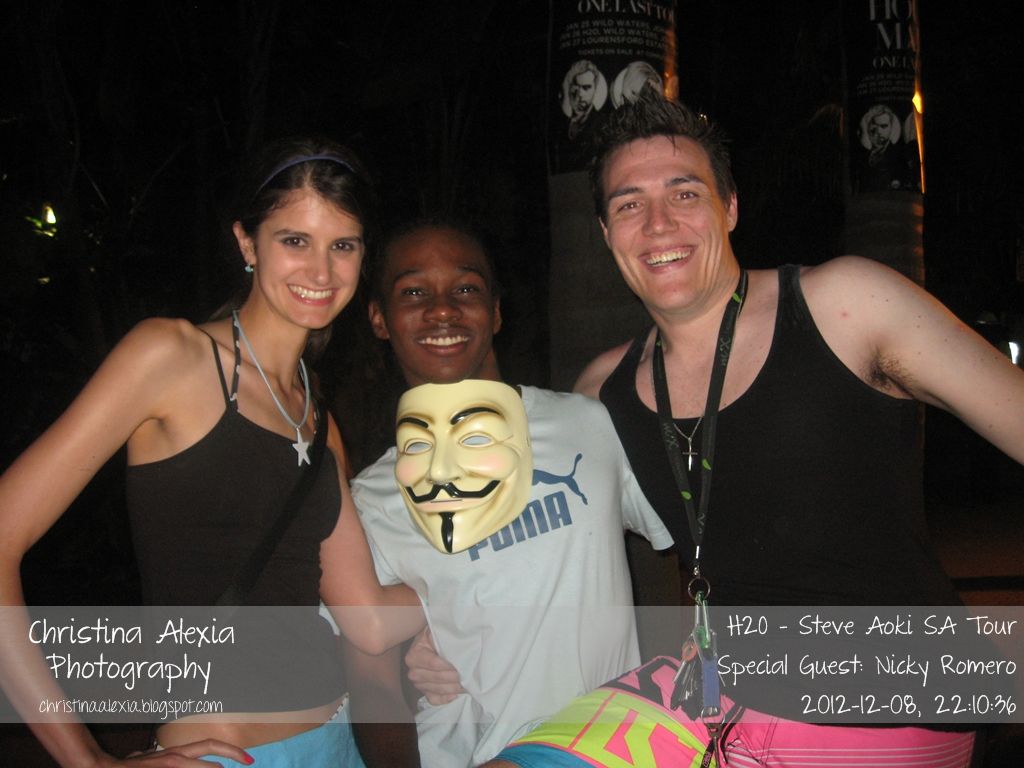 Me and the friends :)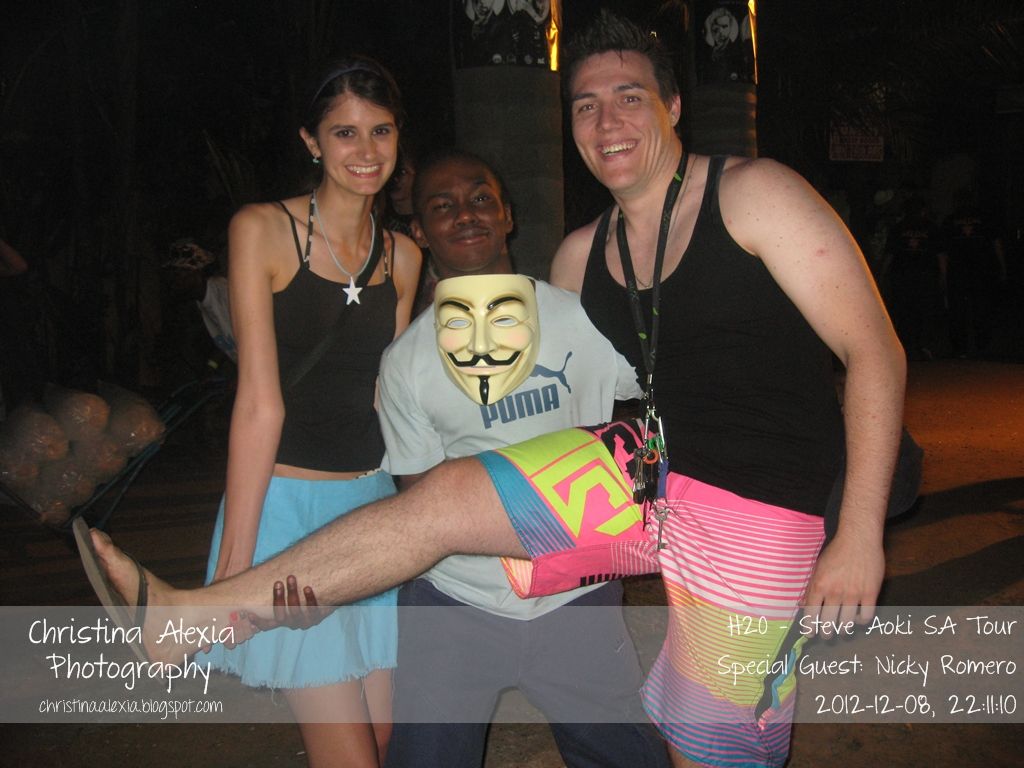 Bro time ;)
We then went on a quest to find food, my brother and his friend. We got Chip and Dip which was so gooood haha!! We found my brother and his friend trying to negotiate their way into the DJ booth while DJ Louis was playing. My dad knows DJ Louis so my brother used that as his "please let me in" plea. There was also a very drunk girl trying to worm her way into the DJ booth and that was funny to watch.
After a while, the bouncers told my brother that he could go up if he put his shirt on and looked decent so he went up with his friend. I gave them the camera...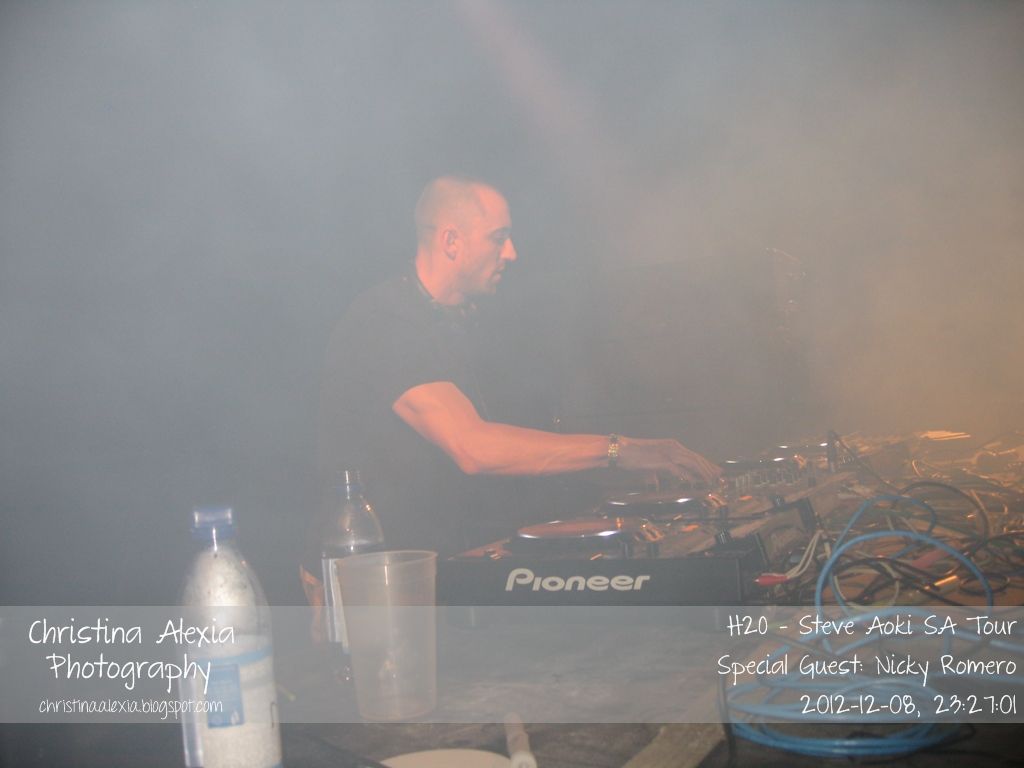 DJ Louis.
When they were done in the DJ booth, we started heading out and on the way they managed to convince the security to let them take an Olmeca Tequila banner.
All in all it was a very good day :) now time for some shopping and then my friend's 21st this evening!