I feel so proud of this mani because it is something I randomly thought up while buying the polishes I got on Sunday.
I really wanted to use the glitter (Essence - Colour and Go: 67 Make It Golden) and I at first was going to do all my nails in glitter but I thought that may be overkill. So I did accent nails instead :)
The stripes took a bit of time and I had to cut the tape into really thin pieces as I don't have striping tape. I am really pleased that I managed to get them about the same size :) My special someone said that they look nice which is awesome! It makes me happy that he likes my nail art haha :)
Photos from Monday: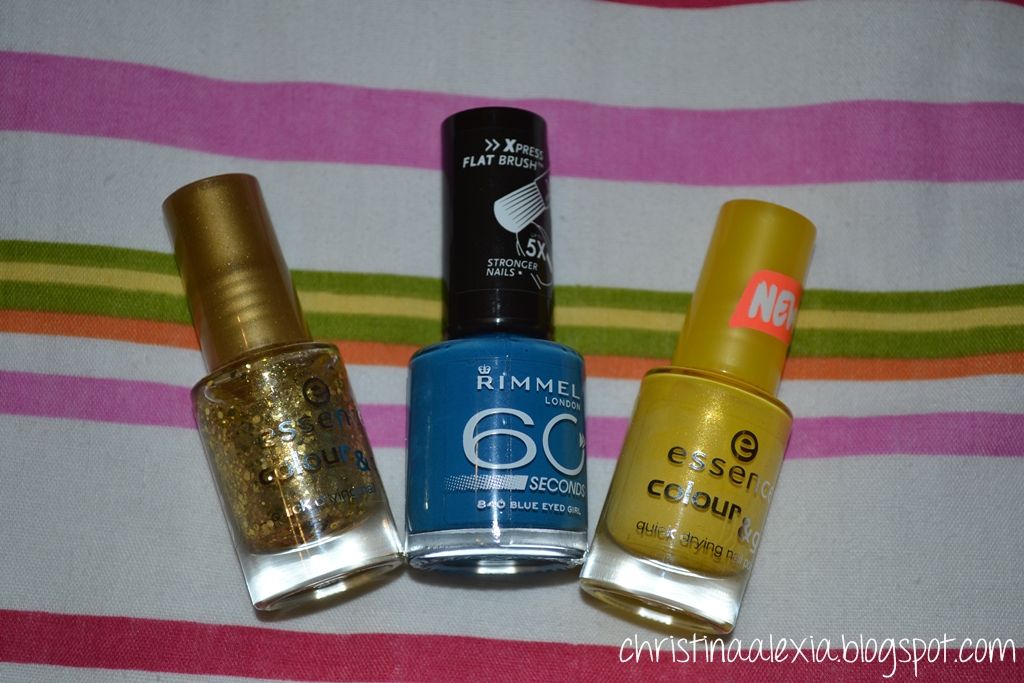 Bottle shot for fun.
Photos from earlier today:
PRETTY GLITTER :D
It has a circus-y feeling :D the stripes remind me a bit of a circus tent or clown pants haha.
The polishes I used are:
Essence - Colour and Go: 67 Make It Golden
Essence - Colour and Go: 95 Wanna Be Your Sunshine
Rimmel - 60 Seconds: 840 Blue Eyed Girl
I also wrote a test today and I am sooo tired... Zzzz! I had a test yesterday and have one tomorrow and Saturday so I am quite stressed out. Must go back to studying now.