The rugby was AWESOME! :D We had really cool seats and the vibe was great and South Africa won haha so it was all round awesome :)
I went with my mom, brother, step dad, step dad's dad, step aunt, step uncle and step cousin. We met up with other people on the way there and drove in convoy. My mom, step aunt and I dressed up a bit, here's what I looked like:
Rocking some awesome gold hair!
We had gotten parking tickets and parked in some (delicious smelling -_-) building's parking lot. We walked to the stadium and there were SO MANY PEOPLE it was mad!
So many (consumed) beers!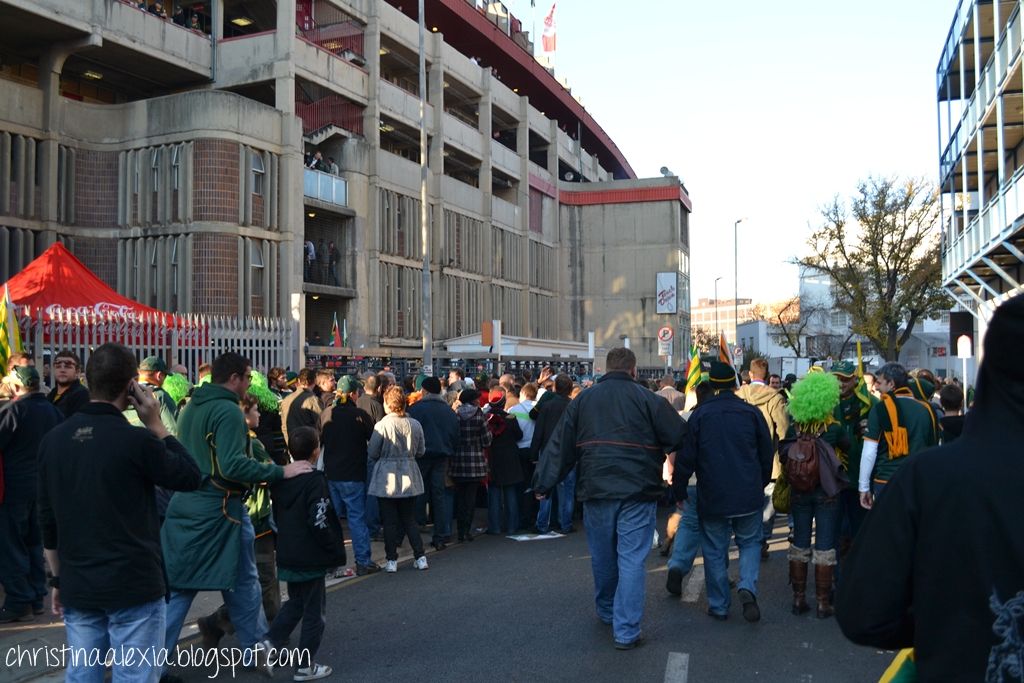 PEOPLE.
Some of the παρέα (Greek word for "company" or "friends"). My brother, step cousin and other kids were ahead of us. You can see what my step aunt and mom looked like haha, my step aunt has the green afro wig and my mom the green shiny wig.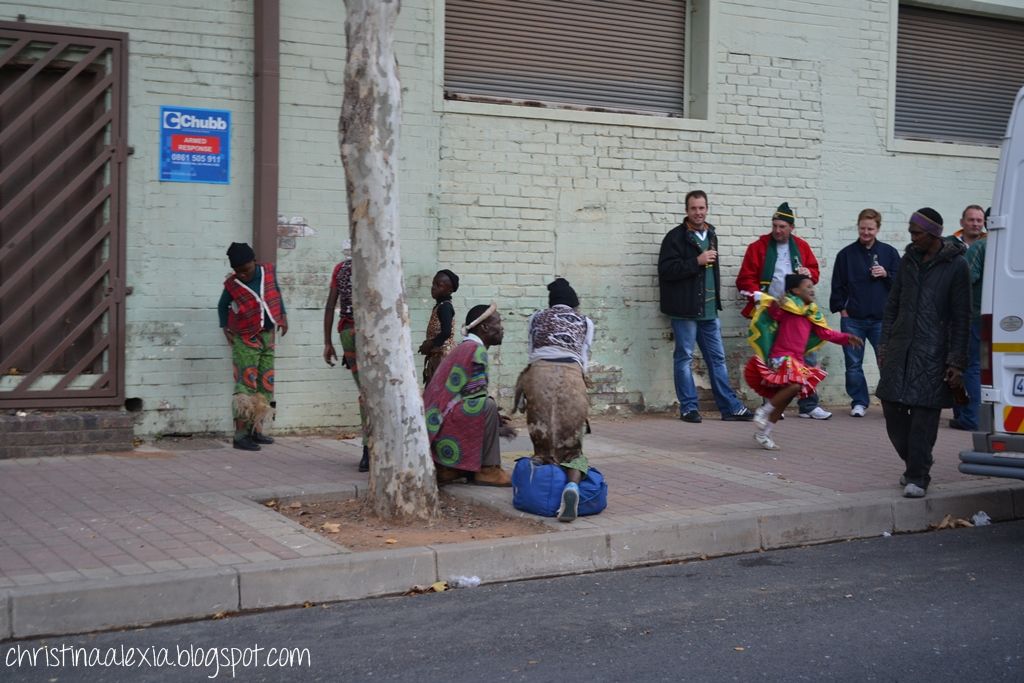 Random people doing traditional dancing.
SOUTH PARK!
The queue that lead to the turnstiles that lead into the stadium complex was LONG and people were getting restless and irritated, lol. Some dude behind us and his girlfriend (wife?) were having an argument, it was quite annoying haha!
SO we used this as an opportunity to take some photographs :)
Me and my mom with my brother photoboming in the background.
My ticket!
We eventually got into the stadium and right on time too!
The match was very exciting :)
The crowd watching as we were about to score!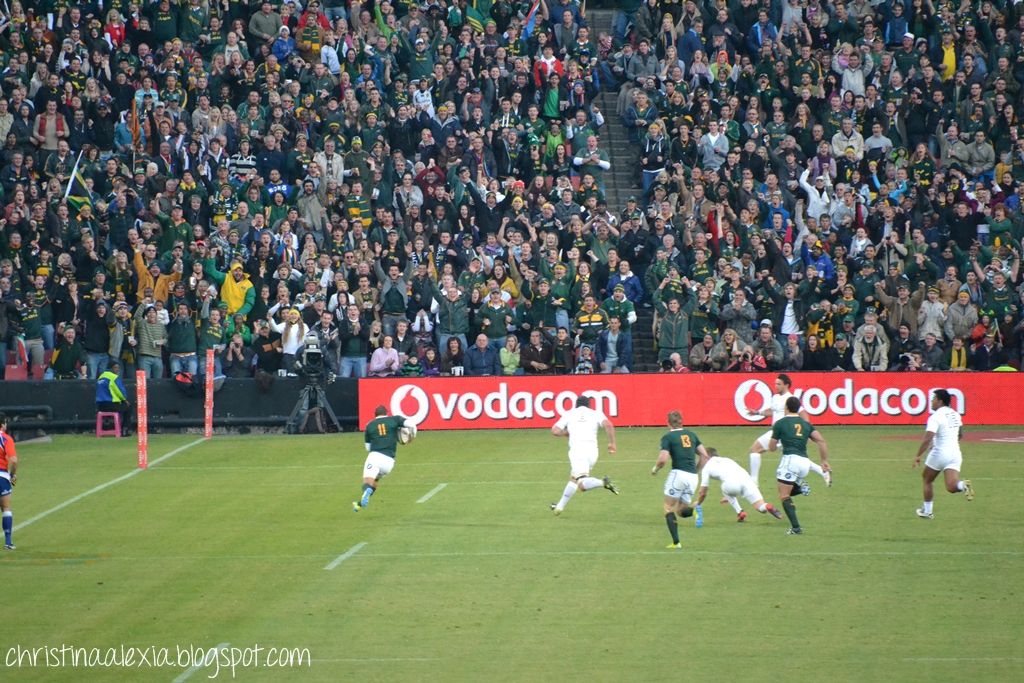 YAY!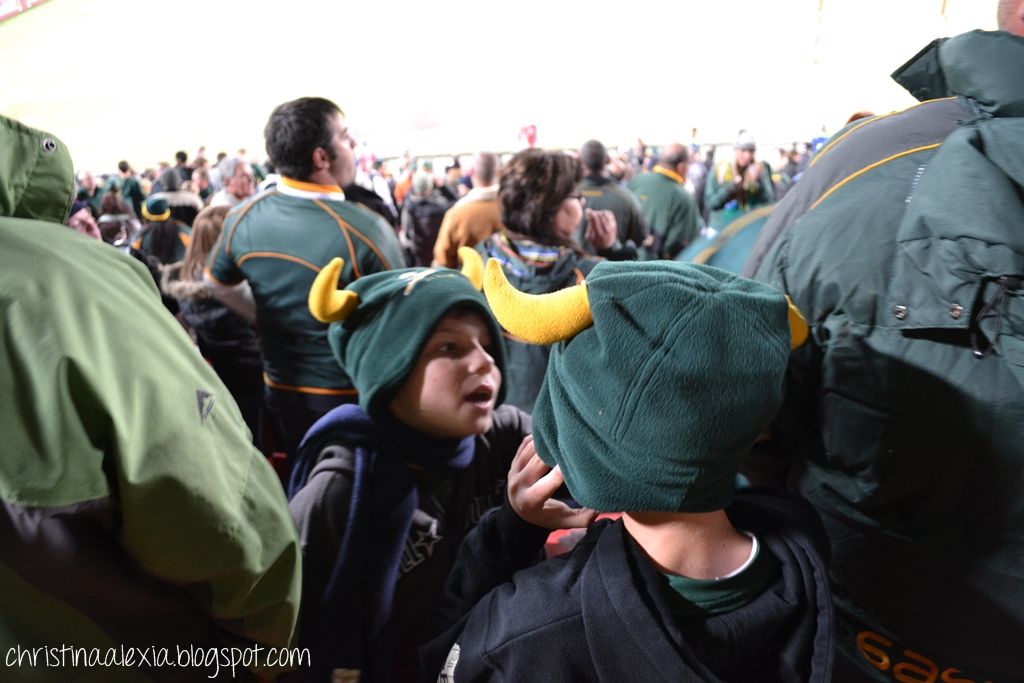 Their beanies are so cute!
The final score was South Africa 36, England 27.
During the match, my friend BBMed me to let me know that I had won a PVR from a SuperSport Twitter competition! I was in total shock haha! The competition was for our "PVR moment" and I tweeted that mine was when my mom and step dad got home 7 minutes into the Greece vs Czech Republic soccer match and rewound it to watch the goals that had happened in the first six minutes (such a painful thing to rewatch!). My friend said he saw my tweet on TV :D
So now we are waiting for the soccer to start :) Greece vs Russia! Greece has a chance to go through, hopefully they play well :) OH and we're at my step aunt's house now and one of the girls that I grew up with is here so it is awesome :)