[Note: I've updated this post to reflect my new watermark on my photos.]
Rainy day :( Of course, the day started off with the Maths lesson. When the lesson was done, everyone was gloomy and bored. Everyone went off to do their own thing...
Shoeless modelled for me, LOL. My mom, Tina, Mike and Gerry sat on the balcony to try "catch a tan" because apparently as long as you can make a shadow you can tan. They called the curry place and the person told us that they close at 18:00.We decided to go eat curry as a late lunch/early dinner yesterday since the shop was closed early yesterday and decided to get going at around 15:00.
After some time, and much persuasion, we all got up and got ready. We had had a snack and got dressed and stuff. We walked to the car, sloooowly, lol. I took photos of the bird nests.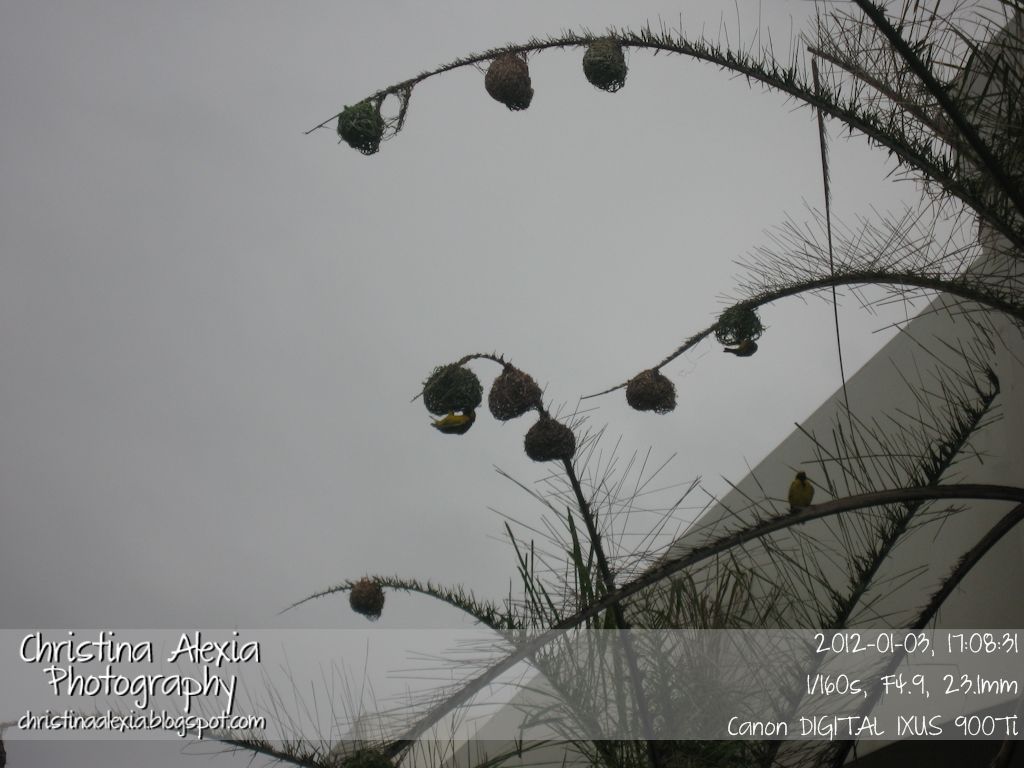 Bird nests. There were lots and lots! These birds also woke us up in the morning lol.
We all piled in Gerry's car, Pappou Taki wasn't feeling well so he stayed home... then the car wouldn't start.
So we had to jump start the car. Mike's car on the left, Gerry's car on the right. We got it to come to life! WOO!
The shopping centre we went to is called "Tiffany's" and that reminded me of Tiffany (who runs
The Lacasse Zoo
).
We got to the Indian restaurant and ordered our food. Alessia didn't want to eat curry so we walked around the centre to find her something to eat and we stumbled upon BBM Cafe.
LOL at the BBM emoticons.
The starters for the table arrived (which I couldn't eat)... Samoosas! Mike, who apparently isn't normally clumsy, spilled his wine all over! Oops...
Then our food arrived! SO MUCH FOOD AGAIN. Chicken curry, mutton curry, prawn curry, bunny chow... It was very spicy but very nice :)
After we ate, we went to Ballito Lifestyle Centre. And we caused fasaria. Speaking in Greek (and me in a British English accent), we made so much noise. Most of the shops were closed which was annoying, lol.
We messed around with the "No Parking" cone.
Giagia Filitsa arrived out of nowhere with the trolley and told me, Tasso and Mario to get in. I declined lol I doubt that trolley could've held us all, and I took photos instead.
Then we messed around with a piece of a palm tree (which we took with us because Mike wants to take it back home for their house).
That shop name made me laugh, "Bullshit Creations" (it doesn't really stand for bullshit but that's what came to mind when I saw it).
We went to SuperSpar and I laughed at that advert... "BECAUSE I CAN!" LOL. The monster overload reminded me of a friend from University.
This was one of those model units that show what an estate/complex of houses would look like, where the units would be placed and so on. I found it particularly funny that the one car was overturned... I said that I'd never get a house there because of the danger, haha :)
We went to put petrol and this is what we saw at the pump next to ours... That's a LOT of money :O
We went back home after this and chilled until bed time. My brother is so charming... And I made a fort for myself in my corner, lol.