DEADMAU5 WAS PHENOMENAL!
I have lots of photos to show, so I shall start from the very beginning of the day and talk about everything :)
Going to the shops.
My brother wanted to get a wifebeater (vest) to wear at H2O because it was going to be super hot! The ones he has are white and my mom suggested we go to the shops and get black ones. So off we went to Eastgate to Mr Price to exchange the black t-shirts we originally bought to use for the ears of my Mau5 head.
As we walked in, I saw the cutest dresses EVER. My brother said I should take one but the price was just as much as the t-shirts we needed to exchange so I decided not to. My mom had said that if we saw something we liked, we can just pay extra for it over and above the exchange price of the t-shirts and she'd pay us back, so I was considering it.
We found the vests he wanted and we went back to the dress section and I picked a dress. I went to try on for size and while waiting in the queue, we saw men's shoes and my brother said that maybe he should get cheapish shoes to wear to H2O so that if they get messed up it won't matter. He contacted the mother (lol) and she said that it was fine to do that :)
I tried on the dress, and went to find cheapish shoes too. I found black and white ones and I couldn't decide which ones to get so I took this photo next to the dress I wanted to get and I asked my mom to choose which shoes are appropriate (I was considering wearing this dress to H2O instead of the one we previously bought). I preferred the black ones but I thought maybe the white would be better. My mom chose the black ones.
There was a problem at the customer service tills, people were getting quite cross. I am not sure how long we stood there for but we left Eastgate at 11:40 or something insane like that. We had arranged to leave the house at 12:30 so time was running out.
Wearing our completed Mau5 heads for the first time!
WAS EXCITING :D We (my step dad, my brother and I) spent about two weeks working on the heads! We used
this tutorial
for inspiration. It was an insane process but most definitely worth it! Look at how cute they are :D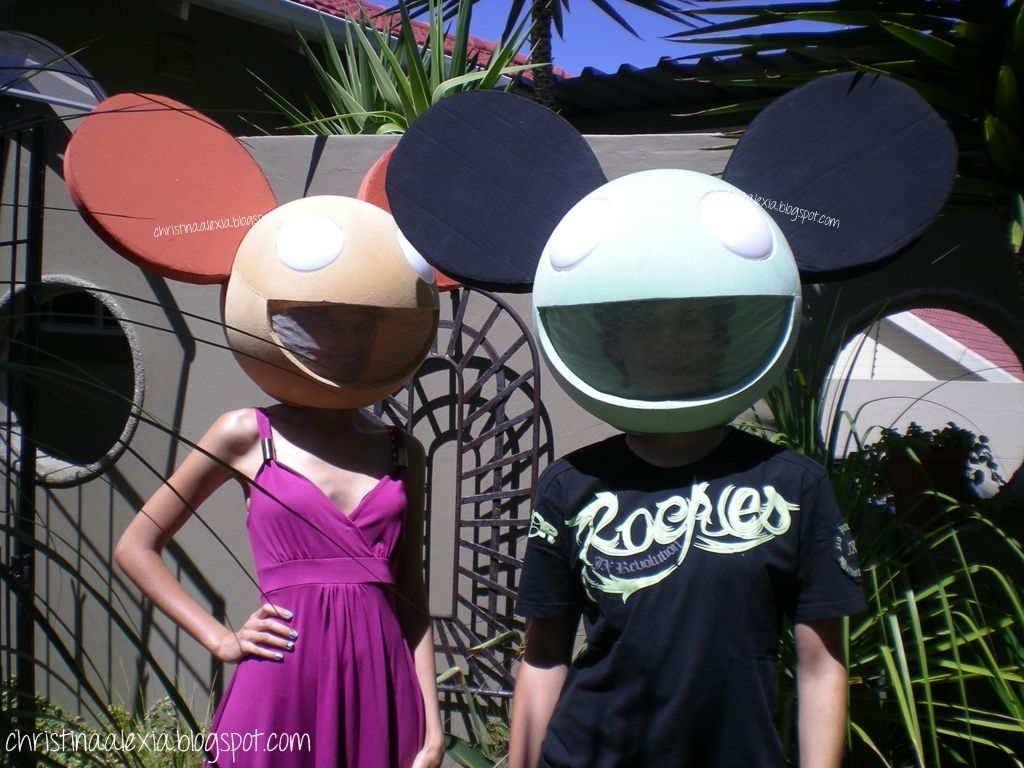 My brother got jealous and also wanted a Mau5 head LOL and my step dad agreed to make him one too.
Me and my step dad.
After taking quite a few photos, we went on our journey to H2O!
The journey.
The drive wasn't too bad! We missed the off ramp (as did many people, we saw loads of cars getting back on the highway the same way we did and they were full of people so we guessed that they were also going to H2O and we were right) though it wasn't too bad, we got back on the highway and found our way pretty easily after that since once exiting the highway at the correct off ramp, there was TRAFFIC.
Though the traffic moved pretty fast... Then we saw this.
LONG QUEUE IS LONG!
We were entitled to VIP parking since we had VIP tickets but the car guards told us that the VIP parking was full and we were told to park on a grassy area on a pavement which was super dodge. Those car guards directing us were super rude. As were the car guards by the grassy area.
The queue.
We put our Mau5 heads on and stood in the queue. The wind was blowing quite strong and was pushing against the ears of the Mau5 head! Was quite annoying. We got many MANY looks from people. We also saw some other Mau5 heads...
While standing, we heard some girl comment that "it is unfair that the VIPs get their own queue". So this super long queue was the normal queue! We swiftly got out of the line and walked to find the VIP queue. Once there, we got asked for some photos. That was just the beginning of the photos haha! We got asked to take so many photos which was quite cool :)
H2O!
Finally, we made it inside. There were people EVERYWHERE. It was insane. There was music blasting loud (which we could hear from outside the venue of course, but it obviously got louder as we got inside). We got tons of stares lol! Then we saw the merchanise stand...
MERCHANDISE :D I got a t-shirt and a collectible, and my brother got a t-shirt. Photos of those are at the end of the blog post.
We had no idea where the VIP section was, we actually had no idea where to go. Tons of people asked us for photos, so we were quite side-tracked trying to find our way around but it was fun :)
We eventually found the VIP section and settled to chill in a shady area that gave us a nice view of everything.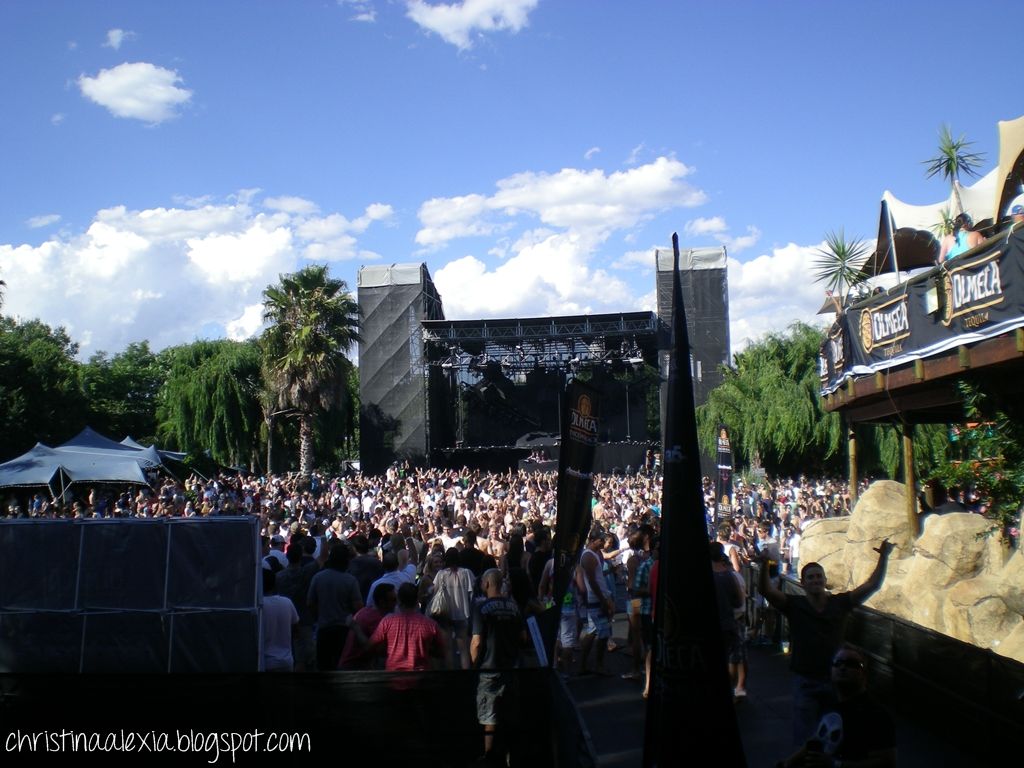 So many people.
Red and yellow Mau5 head!
There were so many people that it was INSANE.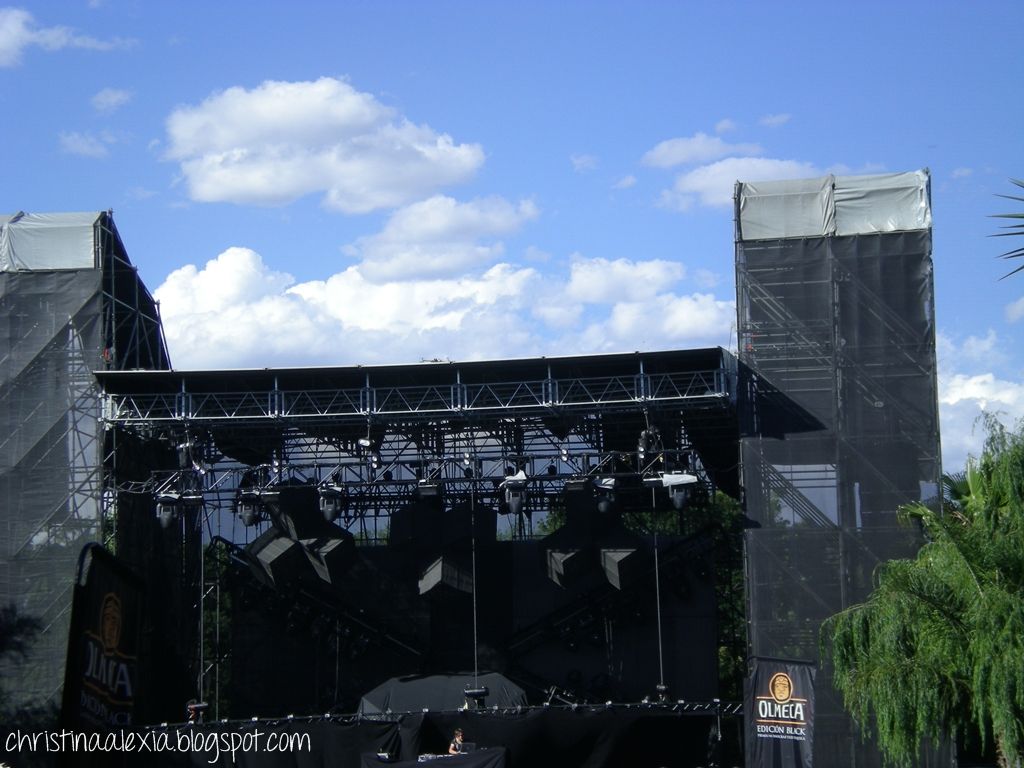 The Mau5 Cubes! Towards sunset, the ones on the sides were slowly lowered down.
That little black flying thing had a camera and was filming everything.
SO. MANY. PEOPLE.
Arm band we got.
MORE PEOPLE.
Change of clothing.
I had brought long tights in case it rained, but it didn't look like it was going to rain, which was good. Though I'd also brought shorts so I changed into the shorts, the black shoes and the Deadmau5 t-shirt I bought because the Mau5 head was rubbing on my neck like crazy and it was hurting a lot! I'd always tried the head on during the creating process while wearing a t-shirt so I never felt this insane rubbing! I'd also never tried it on for more than 5 minutes haha!
The toilets and the crowd.
At around 19:00, we asked where the toilets were and got told that they were just outside the VIP section. Deadmau5 was to come on stage at 20:00 instead of 22:00 because they were worried that it might rain. The line into the toilets was LONG. People kept asking us if they could try on the Mau5 heads.
I won't talk about what happened when we tried to get to the front of the normal section of the party (as close to the stage as possible) because it involves a lot of rude people and swearing. So I'll just say that it was damn scary and that people are absolute idiots.
Deadmau5.
I took tons of videos (about half an hour's worth or something to that effect) which I still need to upload, but WOW! We made our way back to the VIP section, my brother had beer spilled all over his Mau5 head by some dude and I was feeling very irritated at how we were treated in the normal section.
Though, Deadmau5 was spectacular! The visuals were amazing, the songs he picked to play were amazing... I took some photos...
I wish I got this photo clearer, I love it.
GAME OVER. When the concert ended :(
Nicked this off of a contact's BBM profile.
... but they aren't very good HAHA! The
official Deadmau5 SA Tour Facebook page
has some nice photos as well as
this guy
and
this page
too.
I felt sad when Deadmau5 went off the stage :( I wanted him to continue playing! I hope that he does come back next year! :)
When we were leaving the venue, we got asked for more photos. Some guy even paid my brother for his girlfriend to try on the Mau5 head and we declined the money but he insisted we take it haha!
Then some guy came up to us and asked for a photo with me. I said yes. His girlfriend (I assume) took two photos and the guy wasn't happy so he asked me how much I weigh. I was shocked for a moment because I didn't expect that so I guessed and he said that he was going to pick me up so I said sure, and he took a photo holding me haha and he liked that one. It was very random! You can see what the Mau5 head looked like at night :)
Me with the guy that picked me up for a photo. Light up eyes!
Here are pictures the merchandise we got and my nails :D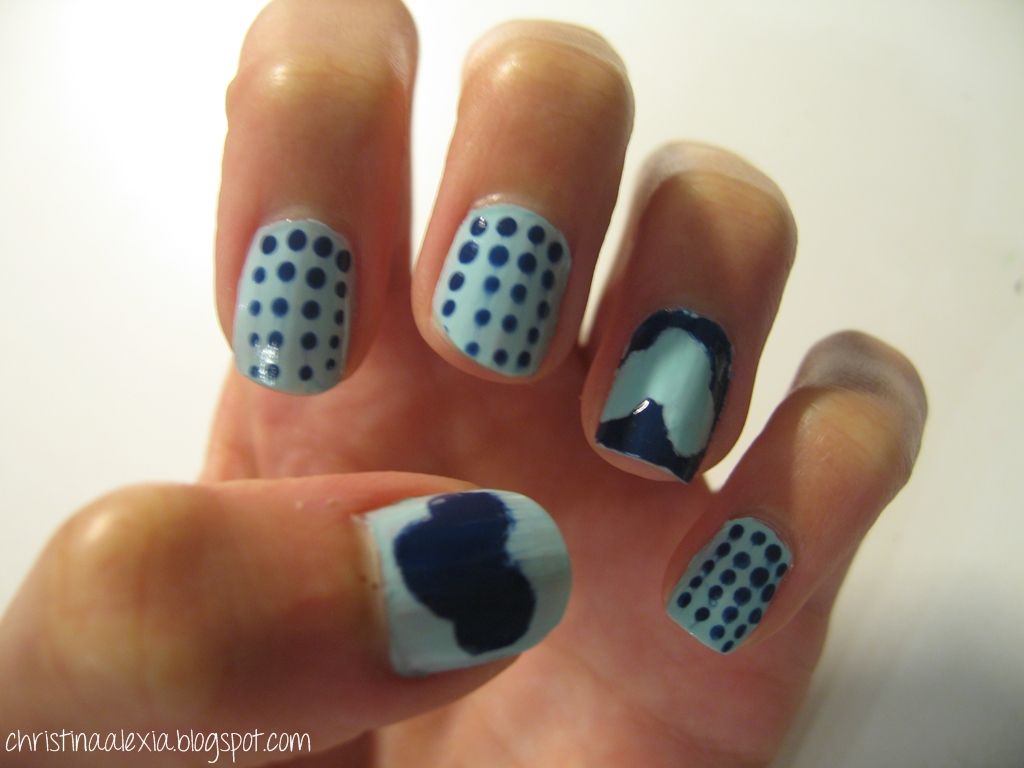 Mau5 nails!
Right hand.
My collectible!
For this mani I used:
Charlie by Revlon - 001 Festival Feathers
Essence - Colour and Go: 53 You Belong To Me
All in all, it was a fantastic day. We had so much fun :)