[Note: I've updated this post to reflect my new watermark on my photos.]
New Year's Eve!
As per usual, started off with the Maths lesson. Though today, the weather turned from HOT to OVERCAST in the two hours that we worked. It was very random but... That's true Ballito fashion. New Year's Even rain. Always.
We went to the beach. It was not windy for a change :O Tina and Mike took Mario to see his friends for a bit and Alessia went with.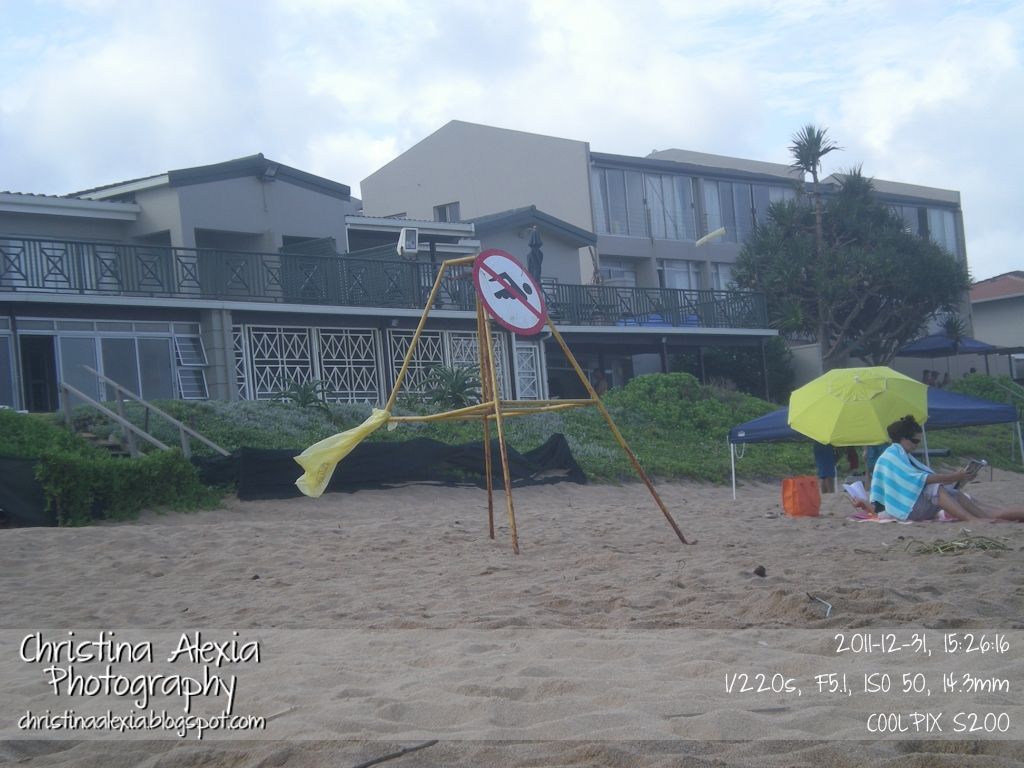 This no swimming sign has been here everyday but it is the first day that I notice that it actually is a no swimming sign and not a swimming sign, LOL, and the structure is also missing a leg, shame :(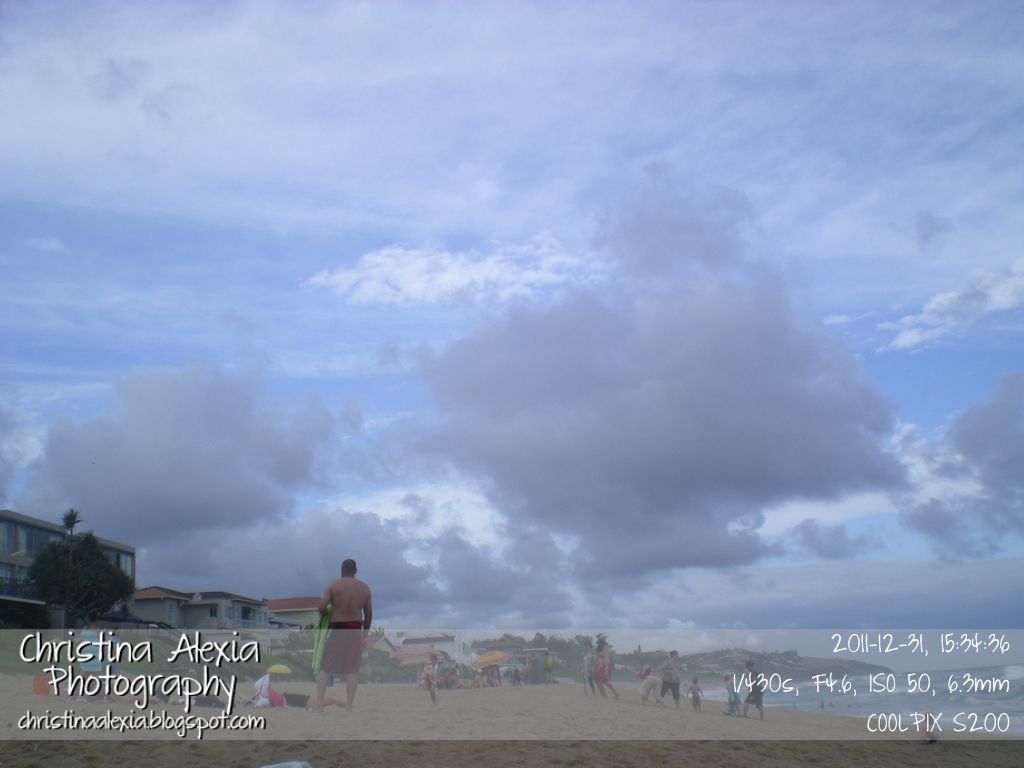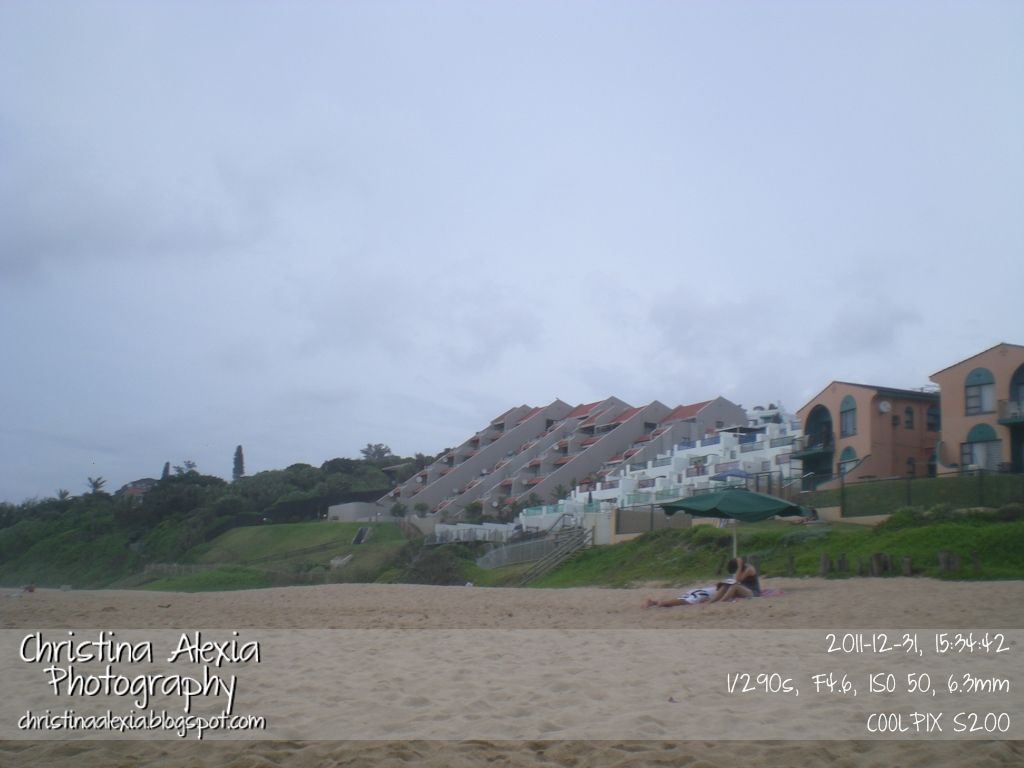 We went swimming for a bit and the water started to get rougher and rougher. My mom had gotten out the water long before my step dad and I did, and when we got out (after being crashed a bit by the waves), I saw a small fish flopping around on the shoreline. My step dad threw it back into the water and then we saw... BLUEBOTTLES. THE HORROR. I am not sure how common it is, but I am so allergic to their stings. No one in my family or step family gets as sore, sick and itchy as I do.
They literally came out of nowhere :O
As we walked back to our towels, we saw the fish AGAIN. A couple saw it too and they threw it back into the water and my step dad said that the fish probably got stung by a bluebottle :( shame!
Some kid was popping the blue bottles and it was so disgusting. I went to take photos and videos of them, carefully of course lol.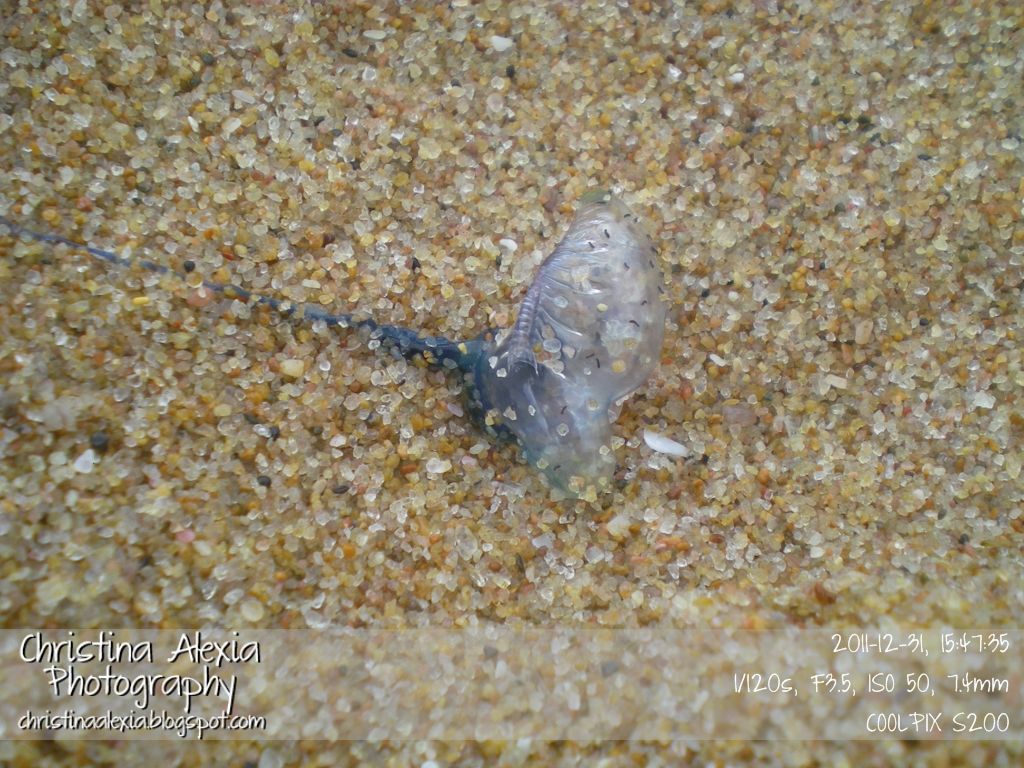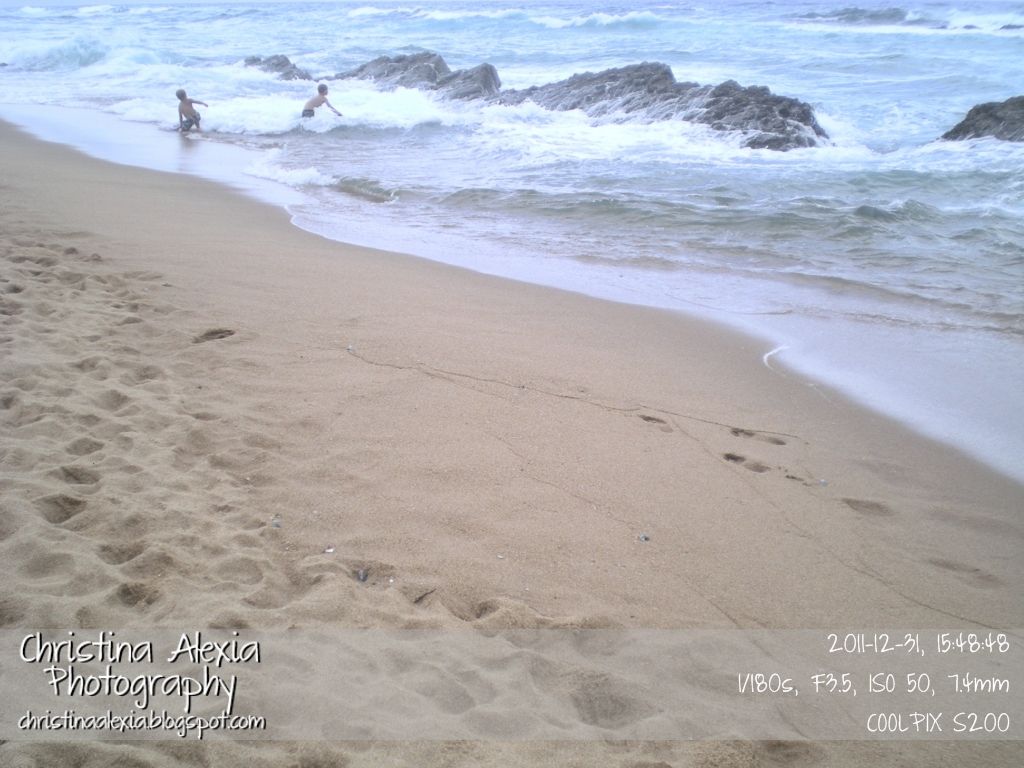 Shoreline scattered with bluebottles. And smart people still swimming.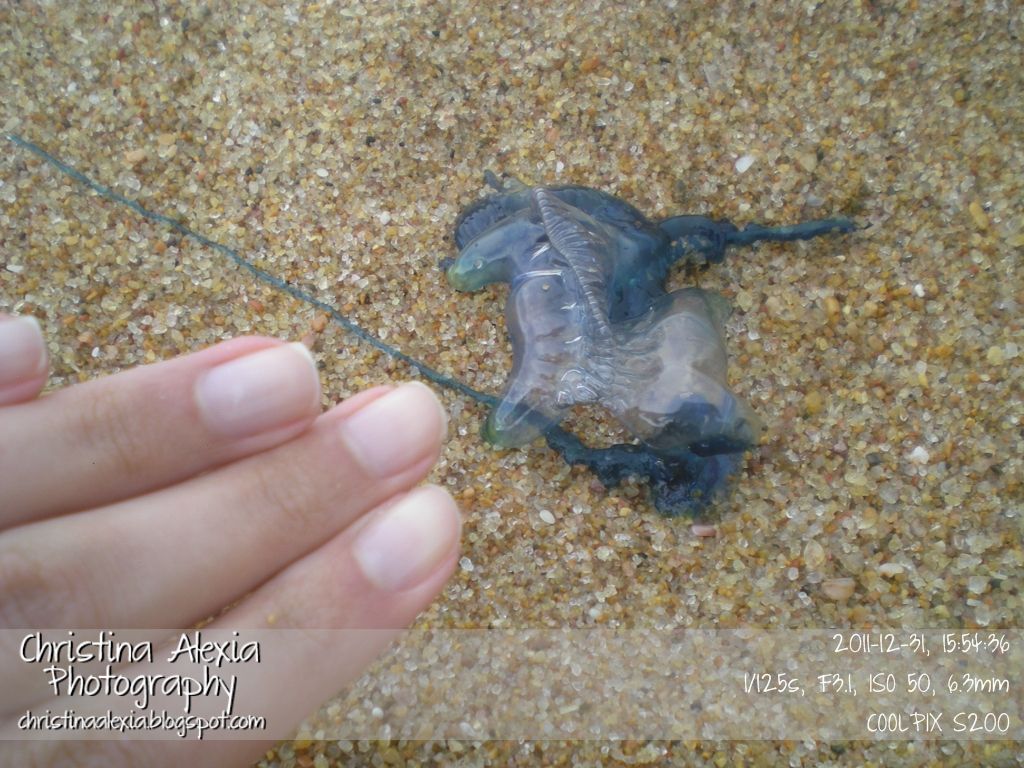 Comparing it to my hand... And boo unpainted nails, haven't had a chance to paint them yet :(
There were so MANY omw and some of them were so big :/ yuck!
We had our snacks on the beach and chilled until the wind started picking up and there was no more sun at all. Then we went back to the house to get ready for the evening celebrations... We were having about 30 or 40 people come over.
Tina, Mike and Alessia got back home. They went out to eat while we were still on the beach. They relaxed a bit and then went to fetch Mario. Tasso went with them. I went to nap while they were gone, my mom and Giagia Filitsa were sorting out food and my step dad was sorting out the braai and outside tent thing because of the rain. Everyone returned at around 18:30ish, I am not too sure.
At around 19:00, my mom woke me up to get ready. Everyone was running up and down to get ready as well, and the guests started to arrive at 19:30. Batch by batch they arrived, lol :)
And of course, the rain started too. Right on time as well. In time to irritate everyone and basically make everyone squash inside and have the entire house get smoked out because of the braai. Awesome.
There were of course the random fireworks...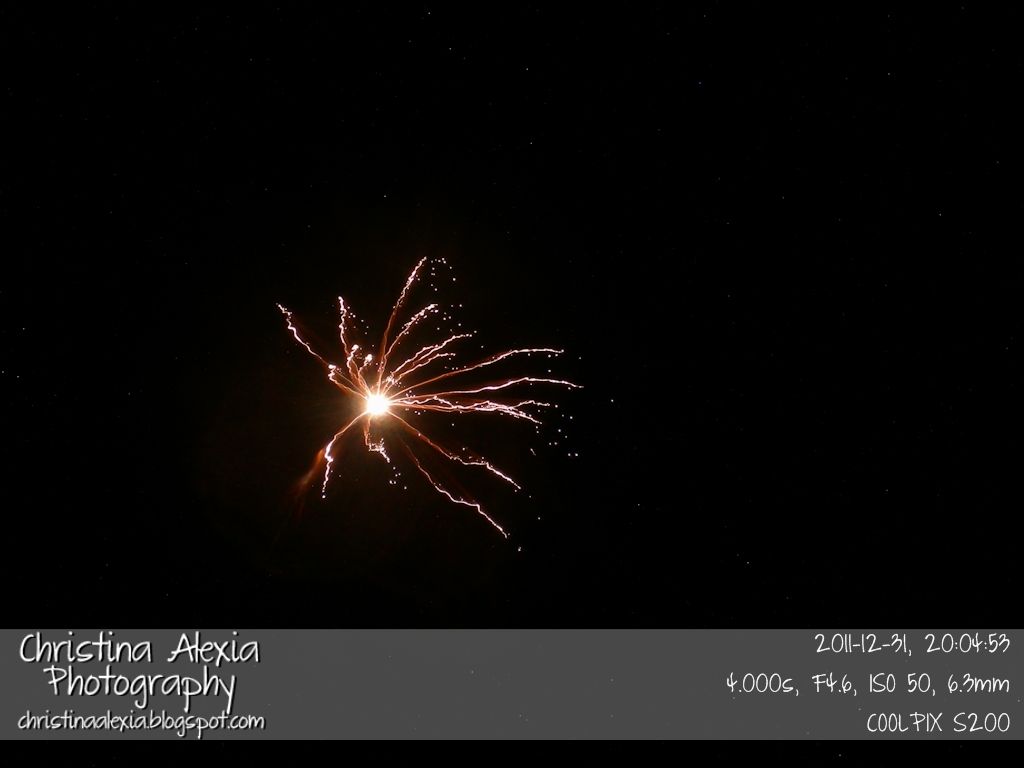 Random photos while waiting to eat...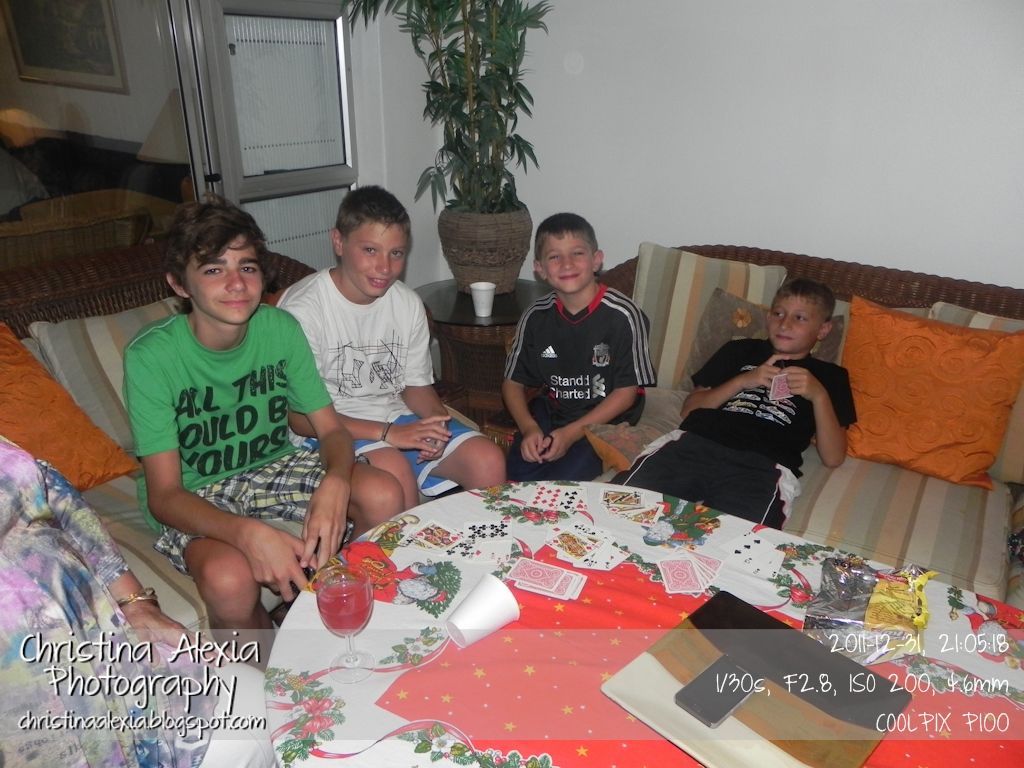 Mario with one of the lady's children.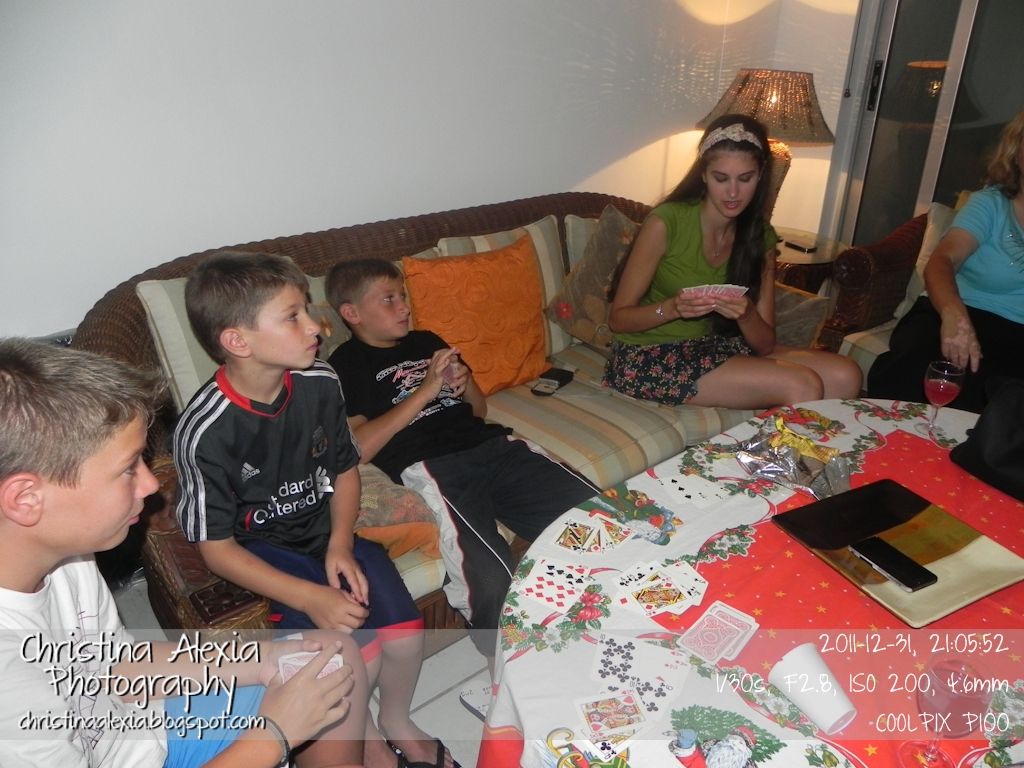 Me joining in on their card game.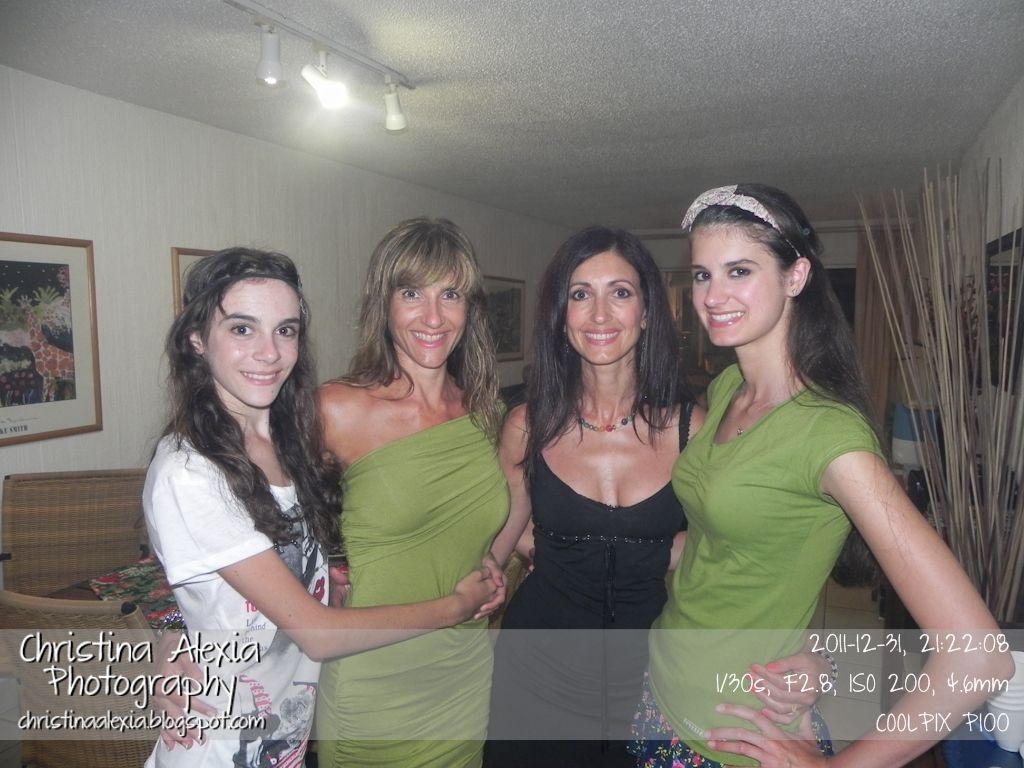 Alessia, Tina, my mom and me.
Gangstas ;)
All the cousins <3 all that's missing is Dani >:O but nooo she went to Cape Town or wherever ... Pssh.
Everyone that came brought a dish to make it easier for everyone else haha! So much variety and so much food!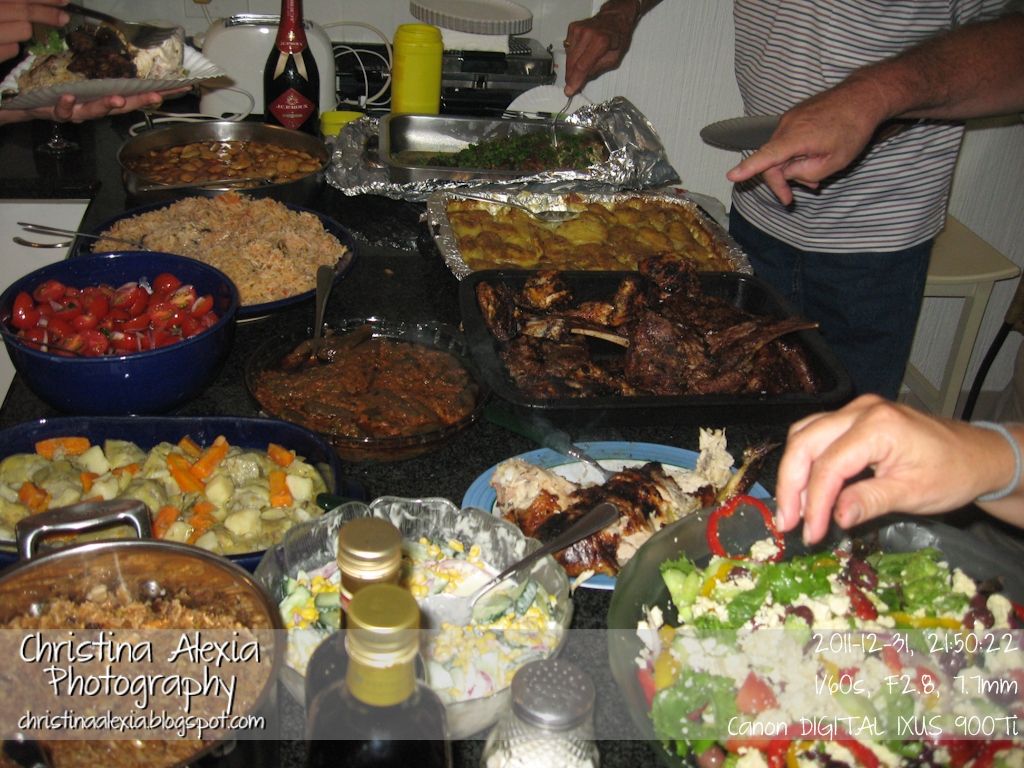 SO. MUCH. FOOD.
The older people watched Greek TV (ERT, joys!), the kids were making fasaria around wherever they could, people were chilling outside and the fireworks started at around 22:30 when the rain finally stopped.
Everyone stood watching the fireworks and had pudding, made more noise, played music, it was fun!
And then the countdown began :D
10...
9...
8...
7...
6...
5...
4...
3...
2...
1...
...
..
.